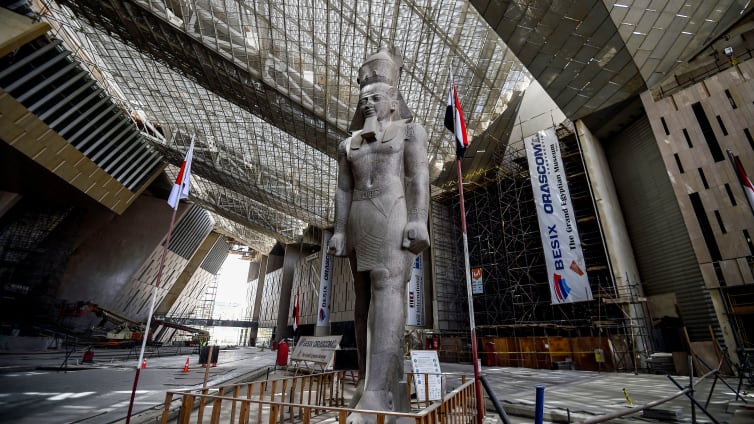 Egypt's Minister of Antiquities and Tourism Khaled al-Anani announced that the opening of the much-awaited Grand Egyptian Museum (GEM) will see a one of a kind ceremony, set to be the biggest ever held in Egypt's history.
The new mega museum is set to open its doors to the public before the end of this year.
During his meeting with Parliament's Committee on Tourism and Aviation, headed by MP Amr Sedky, Anani said that leaders of various countries around the globe will attend the GEM's opening ceremony.
The minister further pointed out that the Ministry, alongside Parliament's Committee on Tourism and Aviation, have coordinated numerous promotional campaigns to boost foreign visitors to Egypt, as well as efforts to build new attractions and restore various historical sites across the country, such as ongoing efforts to renovate churches along the path of the Holy Family in Egypt and the recent re-opening of the Eliyahu Hanavi synagogue.
For his part, Sedky highlighted the importance of Egypt's private sector, which he says accounts for 98 percent of the tourism industry in Egypt.
Constructed on approximately 500,000 square meters, the new Grand Egyptian Museum is located nearby the Giza Pyramids and will house the world's largest antiquities collection belonging to a single culture's heritage.
The GEM is set to showcase 5,000 relics from Tutankhamun's collection as well — including 2,000 artifacts displayed for the first time.
In related news, the well-known Egyptologist Zahi Hawass has announced that his opera, which is based on the life of King Tutankhamun, will be performed at the Cairo Opera House this coming September, with a performance also set for the grand opening of the GEM.
The museum will also feature several entertainment hubs, including restaurants, theaters, and more.
Anani has highlighted cooperation between Egypt and various countries regarding the new museum, commenting that Egyptian-French and Egyptian-American cooperation has been dedicated to ensuring the best management of the GEM.