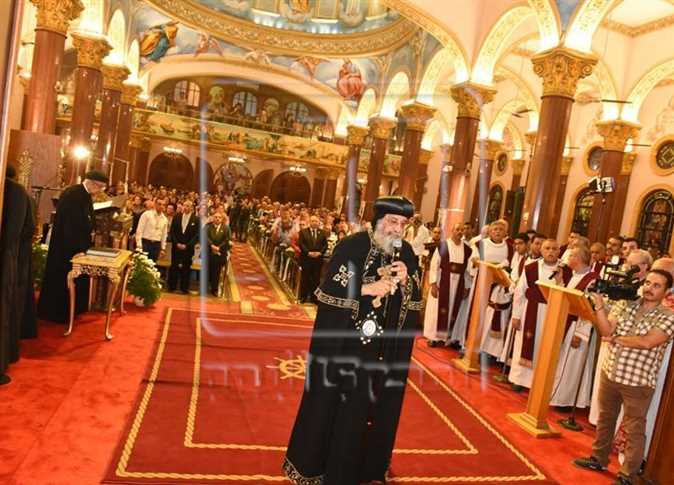 Pope Tawadros II, Pope of Alexandria and Patriarch of the See of St. Mark, said Sunday that there are no intentions to cancel eastern Christmas celebrations in the wake of Friday's Helwan church that killed a number of worshipers and a police officer.
In statements to Al-Masry Al-Youm, Tawadros said that the Christmas sermons will be held in the Cathedral of Christ's Nativity in the New Administrative Capital, while all other churches also will hold sermons.
Al-Masry Al-Youm learned that many churches in Cairo, Alexandria and Upper Egypt have installed metal detector gates and surveillance cameras in front of church entrances, in accordance with the instructions of security authorities.
The bishops demanded the worshipers to cooperate with the security officials and to show identity cards and undergo inspection with no exception for anybody. Church sources said that the gates and cameras were installed at the expense of the churches themselves.
Ten people were killed and another 10 injured on Friday in clashes after two armed militants attacked the Church of Mar Mina, in the suburban Cairo district of Helwan.
The Islamic State terror group claimed responsibility for the attack, but did not provide any concrete evidence for the claim.
For its part, security directorates across Egypt announced that they had increased their readiness to the maximum degree, in preparation for the New Year and Christmas celebrations.
Security forces were deployed in the vicinity of churches and tourist places, while bomb squads combed areas around the churches and a large number of tourist areas using sniffer dogs. The security forces were instructed to be vigilant and to exercise full caution.
A security alert was announced last month in all sectors of the Interior Ministry in preparation for Christmas celebrations, in accordance with the directives of the Interior Minister,
About 230,000 police officers from the National Security Agency, Public Security, Central Security Forces, Traffic Department, and Firefighters are taking part in the plan to protect 2626 churches nationwide, including 1,326 Orthodox churches, 1,200 Protestant churches and 200 Catholic churches.
Edited translation from Al-Masry Al-Youm