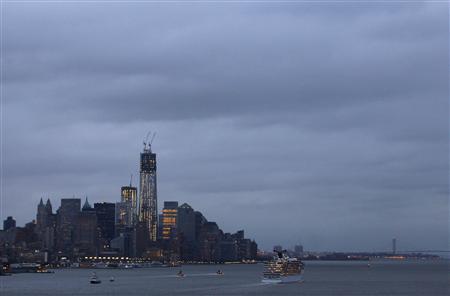 New York confronted the devastation of superstorm Sandy, which left at least 18 people dead in the city and threatened to bring prolonged chaos and misery.
Firefighters battled blazes and carried out rescues in flooded houses a day after the storm set off an explosion at a power station. Scores of buildings were destroyed by fire or the record 4.2-meter storm surge.
Subway trains and buses remained suspended for a third day and hundreds of thousands of homes face up to a week without electricity, the power company warned.
John F. Kennedy International Airport should reopen Wednesday, officials said, but other major airports had flooding and damage to clear up. The New York Stock Exchange was also set to reopen Wednesday after its worst emergency closure since the September 11, 2001 attacks.
Eighteen storm deaths in the city were reported by Mayor Michael Bloomberg, who warned the toll could rise.
One man was crushed by a falling tree in the Queens area. Bloomberg said another person stepped in a puddle in which there was an electric wire and two people were found drowned in a flooded house.
New York State Governor Andrew Cuomo said police and national guard troops "saved hundreds of lives" in post-Sandy operations.
"The path of destruction that she left in her wake is going to be felt for quite some time," Bloomberg said. "This was a devastating storm, maybe the worst that we have ever experienced."
Firefighters battled 23 serious fires across the city, some of which continued to blaze Tuesday, Bloomberg said.
Smoke lingered over many streets after a huge fire tore through more than 80 homes in the Breezy Point district of Queens. Firemen in boats rescued about 25 people trapped by fire.
Breezy Point is near Rockaway Beach, where firemen rescued several people trapped in their homes by waves that tore into the streets. Upturned cars were strewn across roads.
A spectacular explosion at a Manhattan electrical substation at the peak of the storm cut power to about 200,000 homes on the island.
About 300,000 other homes in New York lost electricity as Sandy tore down trees and flooded power transmission facilities.
"Don't be surprised if it takes a week" to get power back, warned Con Edison electricity company spokesman Alfonso Quiroz.
Many roads remained blocked by trees, and road tunnels were inundated by floodwaters that slowly receded after the city was battered. Bridges leading out of Manhattan were only open to emergency services.
Some subway stations had water above platform level and it was expected to be several days before trains were fully operational again.
Police and ambulance sirens dominated the diminished morning traffic. Pedestrians had to avoid trees torn up by the wind gusts of up to 95 miles (153 kilometers) an hour that hit the city.
The streets of Lower Manhattan were pitch black until the sun rose. The power cuts left giant apartment blocks without elevator service.
"I have no water, no gas. I walked down 20 flights of stairs to get to street level and now I must try to get to the office," said accountant Joseph Warburton as he headed for Midtown along Third Avenue.
The roads were strewn with uprooted trees, telephone booths ripped off their foundations and traffic lights blown down with wires left exposed.
New York University's Tisch Hospital had to evacuate more than 200 patients, including 20 babies, when it lost power and its backup generator failed. Long lines of ambulances were still taking patients away on Tuesday morning.
Safety experts also nervously watched a crane over a 90-story luxury apartment block that buckled in the gale-force winds.
The boom of the crane swayed in the fierce gusts over streets near Central Park, which police and fire services evacuated because of the risk that it could fall.
In another spectacular demonstration of its power, the hurricane pulled off the facade of a three-story building in the Chelsea district. No injuries were reported.