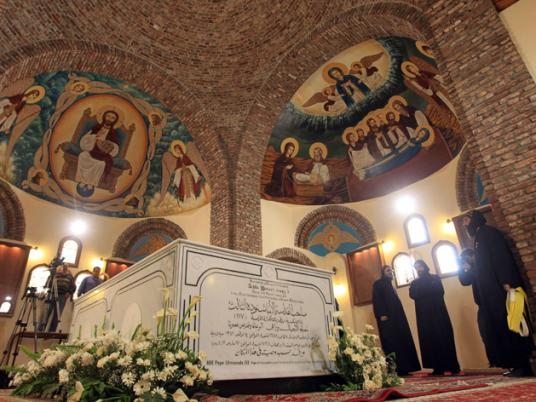 A collection of archaeological murals and drawings was uncovered in Wadi al-Natroun's monastery of Anba Bishoy during restoration and maintenance work carried out by the Ministry of Antiquities.
The murals and drawings were accidentally discovered when the a cement layer was removed from the walls of the monastery's church, said Assistant Antiquities Minister for Archaeological Areas' Affairs Mohamed Abdellatif.
The discovered artwork dates back to the ninth and thirteenth centuries AD, according to Abdellatif.
The fortuitous discovery will unveil many secrets about the structure of the church and its development during that period, especially due to the fact that this structure in particular was subject to many modifications in the Islamic age, according to historical and religious sources.
Ahmed al-Nemr, a member of the committee documenting Coptic antiquities, said that the drawings were done in a Frisco style and depict a group of saints and angels, below which are some Coptic writings.
Edited translation from Al-Masry Al-Youm