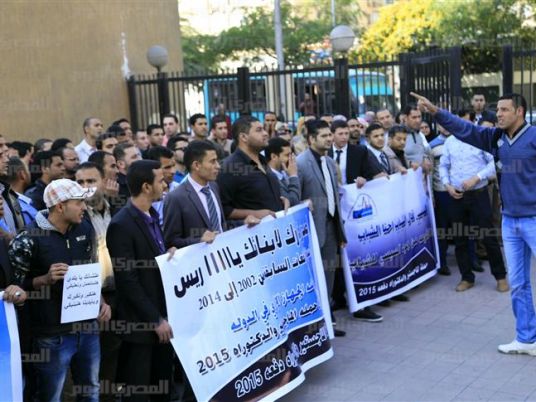 Masters and Ph.D graduates, who graduated from their programs in 2015, announced plans to move their protests from the Planning Ministry to Ettehadiya Presidential Palace to demand government jobs.
The protesters said during protests outside the ministry Tuesday, which saw a high security presence, that officials had ignored their demands for an appointment at the state's administrative bodies.
"We will protest", "We have the right to", "The government is challenging us", read some banners being carried by demonstrators.
Mahmoud Abu Zeid, a representative of the protesting post-graduates, said "the campaign decided to resort to the Ettehadiya Palace after state officials ignored our demands." He said the campaign has so far staged more than 21 protests voicing the same demand.
The past months have seen recurrent protests by post-graduates demanding government jobs, and police have moved in to put an end to some of the protests.
Government employees account for nearly 6 million of the country's employed. Egypt recently introduced a controversial "civil service" law to regulate promotions, retirements and bonuses which sparked several protests by government employees.
Edited translation from Al-Masry Al-Youm