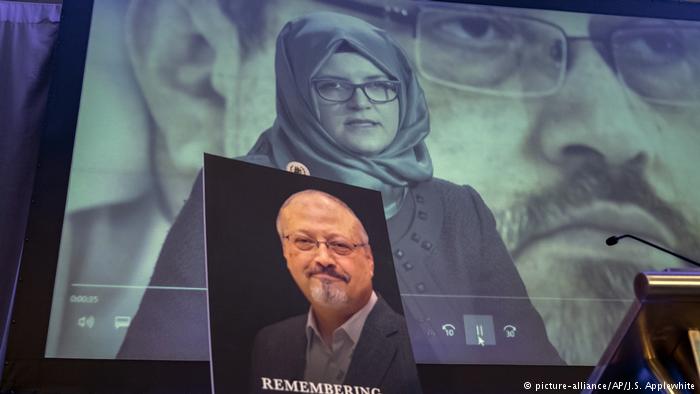 Saudi Arabia's top prosecutor has recommended the death penalty for five of the suspects charged in the murder case of dissident writer Jamal Khashoggi. However, he denied Crown Prince Mohammed bin Salman's involvement.
Saud al-Mojeb, the kingdom's top prosecutor, announced on Thursday that he was recommending the death penalty for five of the 11 suspects who have been charged with ordering and carrying out the killing of Saudi journalist Jamal Khashoggi, who was killed in the Saudi consulate in Istanbul.
He did not name the suspects. In total, 21 people have been arrested in connection with the case.
Crown Prince bin Salman exonerated
Khashoggi, a regular contributor to US newspaper The Washington Post, was a staunch critic of Saudi Crown Prince Mohammed bin Salman. His murder cause international outrage, and many believe it could not have been carried out without bin Salman's knowledge.
The prosecutor, however, claimed the crown prince was not involved in the killing. He said the highest-ranking member of the Saudi leadership implicated in the operation was former deputy intelligence chief chief Ahmad al-Assiri, who has since been fired for ordering Khashoggi's forced return.
A spokesman for the prosecution told reporters that plans to assassinate Khashoggi were set in motion on September 29.
"The crime included a fight and injecting the citizen Khashoggi with a drug overdose that led to his death," the official said. The body was dismembered and handed over to a local collaborator, he added. He did not give any details on the location of the body.
Khashoggi entered the Saudi consulate in Istanbul on October 2 to get some paperwork for his upcoming wedding. His fiancée raised the alarm when he did not return. After weeks of denials and under growing international pressure, Riyadh finally admitted that Khashoggi was killed in the consulate in a "rogue" operation.
The case has caused a row between the kingdom and Turkey, whose government insists the suspects should be tried in Turkey. Foreign Minister Mevlut Cavusoglu called the Saudi prosecutor's statement "positive but insufficient," insisting that Khashoggi's murder was "premeditated."
ng/msh (AP, dpa, Reuters)