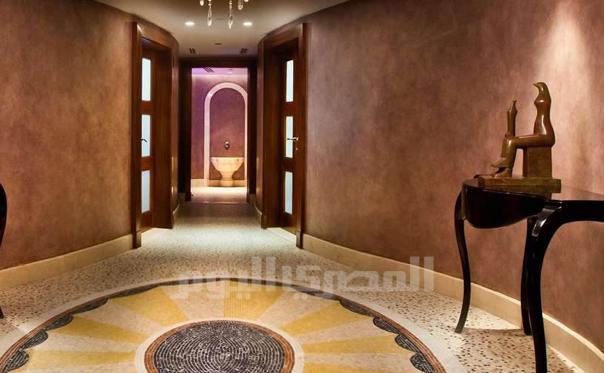 The air carries the fresh smell of jasmine and Far Eastern tunes calmly fill the space of Kempinski's Herbal Spa. On the 12th floor of the elegant Garden City boutique hotel, a pricey piece of heaven awaits.
The menu is extensive. Massage, facial and body treatments are divided into four sections: winter, spring, summer and autumn. The spa is spacious, spotless and luminous and at every corner you are saluted by a smiling staff member offering to help and show you around.
All treatments and massages last between 45 and 90 minutes. It is wise to ask your masseuse about the intensity of the massage you're going for. "Massages can be relaxing and soft or vigorous and fast. Usually the second is for athletes and people who use their muscles a lot," says Kori, a masseuse at the spa.
Unsurprisingly, the recommendation for this season is the spring massage, which is vigorous and aims to detoxify the lymphatic system.
"The type of oil used varies according to the intensity of the massage," Kori says. For the spring massage, a mixture of mint and other vibrant aromas are intended to awaken the senses and stimulate the body.
The dynamic spring massage is definitely not for the faint of heart; it forcefully tackles every inch of the body. Although vigorous and slightly painful at some points, it created a pleasant rush and left me relaxed and detoxified.
After the treatment you are persistently encouraged to use the other aspects of the spa: the steam room, jacuzzi or sauna.
"The jacuzzi is good for your back," says Kori.
You are urged to take a cold bath before using the steam room or sauna.
The facility also includes four showers, a bathroom, a locker and changing space, and a relaxation area overlooking the Nile. A bottle of mineral water is placed in each locker along with a small robe, slippers and disposable underwear.
The spring massage costs LE750 (excluding service charge and taxes) which is double the average market cost. For instance, a 70-minute massage session by a Thai masseuse costs LE430 at Manuela Spa in Mohandiseen, while individual masseuses working from their homes can charge as little as LE250.
The cheapest treatments at the Kempinski are body and facial scrubs with prices ranching between LE500 and LE700. excluding taxes.
The also spa offers other services such as waxing, manicures and pedicures.
There is a couples' suite, which can be rented on its own for LE740 an hour, that houses massage beds and a private jacuzzi and sauna. The hotel offers something called a "Couples Hideway" which consists of a 90-minute massage for a couple and 30 minutes in the spa suite after the massage, for LE1,294.
The place is pleasant and clean but definitely pricey. So if you are a massage lover, save your trip to the Herbal Spa for a very special event.