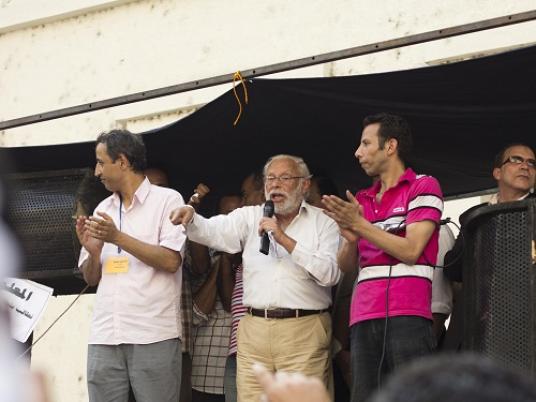 Kefaya movement has said it would take part in the commemoration of the 2011 clashes that broke out at Mohamed Mahmoud street near the Ministry of Interior, stressing it had not coordinated with the Muslim Brotherhood for the event.
Kefaya, founded in 2004 as one of the earliest activist groups opposed to former president Hosni Mubarak, said in a statement on Tuesday that "the memory of Mohamed Mahmoud stands for consecutive waves of the Egyptians' revolution in 25 January 2011,"adding that the goals of the revolution, include " retribution for the martyrs, achieving transitional justice and conducting serious trials for figures of the Mubarak regime for their crimes against Egyptians over 30 years."
The clashes, a landmark incident of violence since the ouster of Mubarak, erupted between police near the Ministry of Interior and protesters opposed to the then-ruling Supreme Council of the Armed Forces following the police dispersal of a protest camp at the nearby Tahrir Square. The clashes left at least 40 dead.
"Nearly four years after the revolution, there is currently a violent attack against it, seeking to distort it and belittle the sacrifices of Egyptians…That attack ignores the fact that hadn't it been for 25 January, there would have been a 30 June," the statement read, referring to the June 2013 events that led to the ouster of former president Mohamed Morsy. It called upon the government to criminalize criticism of the January 2011 uprising.
The group said it would continue its struggle to press for the prosecution of Mubarak regime figures and the political isolation of the former regime.
Edited translation from Al-Masry Al-Youm