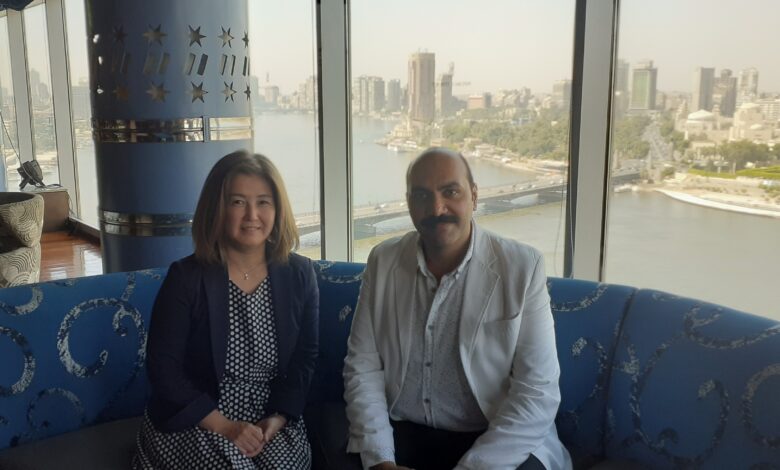 The spokesperson for Japan's Ministry of Foreign Affairs, Okano Yukiko, sat down for an exclusive interview with Al-Masry Al-Youm which touched on the strong strategic relations Egypt and Japan now share and the vital importance Cairo has within the region.
She talked about Japan's overall Middle Eastern policy and the role it can play in helping bring peace and security to the region.
Okano was also asked on the dumping of Fukushima nuclear waste water into the ocean, sparking outrage from China and South Korea and international concerns overall regarding potential contamination.
And she touched on Japan's stance regarding the Russia-Ukraine war, why it hasn't provided any weapons support to Ukraine, and what she feels is the best way towards resolving tensions with North Korea.
Q: How do you see the relations between Egypt and Japan, and what is the importance of the Foreign Minister's visit to Cairo?
A: Egypt and Japan have a strategic relationship, owing to Egypt's pivotal role within the Middle East and the African continent.
Foreign Minister Yoshimasa Hayashi's visit serves as a continuation of Prime Minister Fumio Kishida's visit to Egypt last April, with the aim of strengthening Japanese's presence in the Middle East region in order to help achieve peace.
Within the African continent, Egypt is first with Tokyo – a sign of the importance of Arab-Japanese political dialogue
Tokyo is working to boost cooperation in a wide range of fields such as political security, economy, and development assistance, based on our strategic partnership which has been newly upgraded this year.
Q: What about investments and economic cooperation between the two countries?
A: Tokyo's goal is to strengthen ongoing economic cooperation with Egypt, due to its safety and stability.
Economic cooperation is of particular interest in the Suez Canal region. There are roughly 50 Japanese companies operating in Egypt, and Japanese investments in Egypt have doubled during 2022.
The volume of trade exchange between both countries now amounts to US$1.3 billion.
Q: There are many facets of cooperation between both countries. What are Tokyo's interests?
A: There's no doubting that there are multiple areas of cooperation, such as economically or regarding antiquities, owing to Japan's interests.
Joint cooperation is in place regarding the Grand Egyptian Museum and the subway alongside infrastructure projects and clean energy, as Japanese businessmen desire to pump investments into Egypt through Japanese companies.
This is especially true due to Egypt's huge capacity of human resources, which any investor can benefit from.
Q: What are the pillars of Japan's policy towards the Middle East?
A: Japan's three pillars involve cooperation for prosperity, consolidating peace, and dialogue around maintaining a free and open international system based on the rule of law.
With the dynamic and dramatic changes the Middle East is witnessing, conflicts are still ongoing and the refugee issue is very serious.
The situation in some areas is deteriorating.
Q: Regarding the Fukushima nuclear waters and their discharge into the Pacific Ocean, there are disagreements from China and opposition from South Korea, while voices from the Egyptian Parliament call for stopping fish imports. What is your comment?
A: We have a lot of water stored in tanks, and we have to do something with it.
So the decision was made to discharge it into the ocean. The International Atomic Energy Agency reviewed it and assured that it is completely safe with a negligible impact.
However, parts of the world are giving the wrong narrative that it is very dangerous and the waters are undrinkable, but I can assure you that the fish there are 100 percent safe – we will not harm the world.
Q: But China announced its desire for an international community dialogue on this issue?
A: Unfortunately, there was no scientific discussion with China on the matter.
Whereas with South Korea, they were very concerned about the released water so their scientists visited Fukushima for a site visit and we gave them scientific data collected from the waters.
We called on China for scientific talks and they did not respond, so what else can we do?
Q: What about the Russian-Ukrainian war and Tokyo's continued support for Kiev?
A: Russia is the one who started the war on Ukraine, therefore we urge Moscow to stop this ongoing conflict and to respect the United Nations' laws and Security Council resolutions.
We also call on Moscow to resume work in accordance with the grain agreement, given that the war caused a food security crisis leading to a rise in prices for food and energy, impacting developing countries.
While we do not support direct defense or military support to Ukraine due to restrictions imposed on us and our constitution, we support Ukraine whenever possible in giving them the best landmine sweepers.
Q: How do you see the solution to the crisis with North Korea?
A: North Korea is very active in its military activities.
They have launched ballistic missiles, and also attempted to launch a so-called military reconnaissance satellite which failed – but they announced that they will launch it again very soon.
This is a very dangerous situation, and their activities conflict with UN Security Council resolutions. They are not responding to these challenges, partly because Russia is obstructing veto discussions, as is China.
I believe that North Korea benefits from the UN Security Council's ability to deal with very serious security challenges.
But we have been in discussions with South Korea and the US. We had a trilateral summit meeting between Japan, South Korea and the US last month at Camp David, and they agreed to regularly hold trilateral ministerial consultations.
We would really like to see this situation addressed as soon as possible.