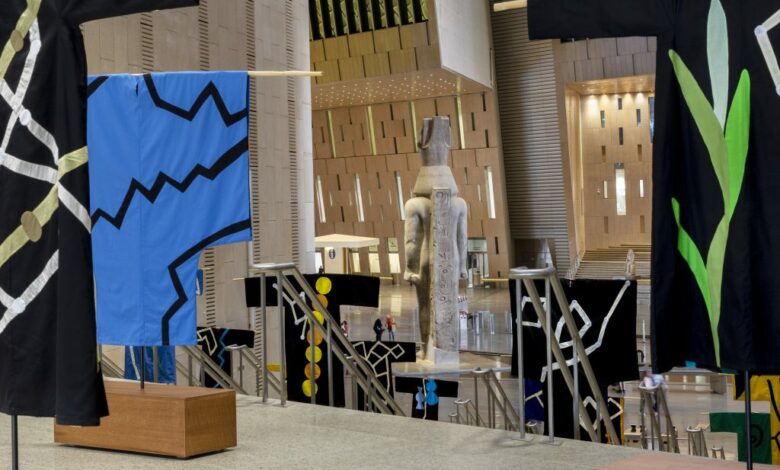 The Grand Egyptian Museum (GEM) is presenting its first contemporary art exhibition, "Traces of Egypt", by German-Egyptian visual artist Susan Hefuna.
This exhibition is an homage to the centuries-old tradition of Egyptian ornamentation, and the Khayameya, which dates back to centuries ago.
The exhibition will last until June 15.
With "Traces of Egypt", Hefuna draws on her extensive experience working with fabrics and collaborates with local artisans to create a series of 28 Egyptian cotton costumes that pay homage to Khayameya tradition.
The costumes, characterized by dots and connected lines, are reminiscent of Hefuna's various drawings and are inspired by the architectural designs for which she is famous, such as the large wooden mashrabiya screens.
Hefuna commented on the exhibition, saying: "I seek, through the use of Khayameya's art, to draw attention to the living heritage of Egypt and the importance of linking it to contemporary and modern arts."
The GEM is considered one of the most important cultural, commercial and entertainment destinations in Egypt, and Traces of Egypt exhibition is the best example of the museum's commitment to highlighting the rich Egyptian heritage by offering a wide and varied range of experiences and activities.
The museum aims to enable all its visitors to learn about Egyptian culture and contribute in the economic growth of Egypt.
When will the GEM inaugurated?
Magdy Shaker, the chief archaeologist at the Ministry of Tourism and Antiquities, said the museum is ready to open, but some external preparations were being finalized before the official opening date announced.
Constructed on approximately 500,000 square meters, the new GEM is located nearby the Giza Pyramids and will house the world's largest antiquities collection belonging to a single culture's heritage.
The GEM is set to showcase 5,000 relics from Tutankhamun's collection as well — including 2,000 artifacts displayed for the first time.
The museum includes huge exhibition halls, and is distinguished by its proximity to the Giza pyramids area and the New Administrative Capital, which makes it a gateway to Egypt's past, present and future.
It is expected to attract about five million tourists.
How to visit the GEM?
The visit should be booked on the official website of the GEM, during which the visitor determines the date and time of the visit, in addition to determining the type of tours and accordingly the prices are determined.
Free entry tickets are available only at the museum's main ticket sales windows for children under four years of age and people with special needs. Prices for Egyptians range between LE75 and LE150.
Visiting hours start daily at the GEM from nine am to six pm.