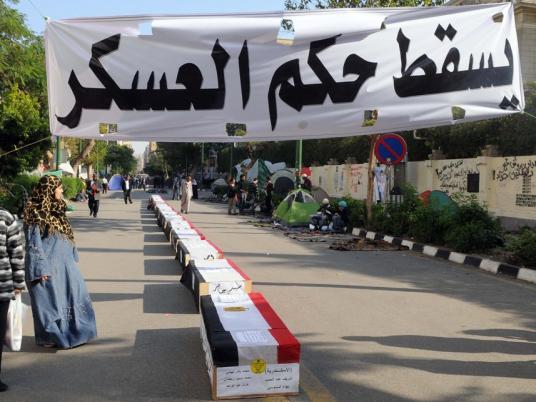 Prime Minister Kamal al-Ganzouri will go before the People's Assembly on Tuesday to explain the government's efforts to address the demands of martyrs' families and those injured since the beginning of the 25 January revolution.
"The Prime Minister will make a statement on Tuesday detailing all the efforts the government has undertaken with respect to the martyrs and injured of the revolution," Minister of Planning and International Cooperation Fayza Abouelnaga said in a press conference on Sunday.
Abouelnaga was speaking with Hosni Saber, the chair of the National Council for Care of Martyrs' Families and Wounded, who said that compensation for the martyrs and the wounded will be delivered to their families within 48 hours.
According to government figures, 699 people were killed during the 18-day uprising, 22 were killed during the army breakup of a Coptic-led march in front of Maspero in October, 42 were killed during the police crackdown against protestors on Mohamed Mahmoud Street in November, and 16 were killed during clashes between the military and protesters in front of the cabinet building in December. The total number of victims recognized by the state as martyrs is 779.
She added that 3,744 injured citizens have received their compensation already, and the government has guaranteed 200 governmental jobs for some of them. She revealed that the government intended to provide 3,200 jobs but the number decreased since some of the injured are children, old men and housewives. 1,500 injured people in total will be given government jobs.
According to Abouelnaga, Ganzouri ordered that the council prepare a detailed report outlining the government's efforts to support the families of the martyrs and injured so he can present it to Parliament.
On 24 January, the People's Assembly launched fierce criticism against Egypt's government, accusing it of not caring adequately for those who were martyred and injured during the 25 January revolution.
MPs said that the issue is more complicated than simply paying compensation to families of the dead and the injured. They argued that the slow pace of Mubarak's trial and the trials of Mubarak-era officials prove that the former President's regime remains in place.
Speaker Saad al-Katatny called for Ganzouri to speak to Parliament to address these concerns.