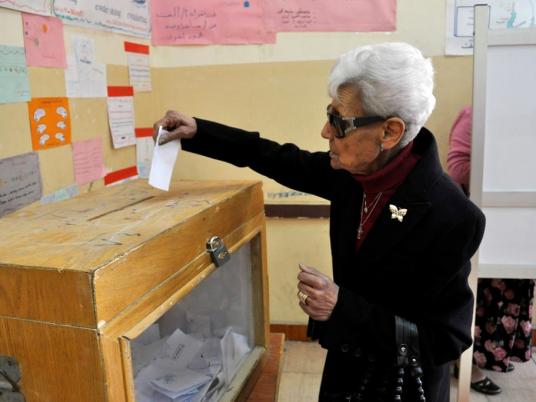 The Freedom and Justice Party (FJP) leads this week's run-offs for the first phase of the parliamentary elections, judges overseeing the elections have said of the initial results.
The FJP has won 22 of the 52 seats contested in the run-offs, according to results announced early Wednesday morning, but judicial sources said votes are still being counted in six constituencies in Kafr al-Sheikh, Fayoum and Assiut.
Elections commission head Abdel Moez Ibrahim is expected to announce the final results at a press conference on Thursday.
On its official Facebook page, the FJP said it won 34 seats in the run-offs, but was likely including independent candidates to whom it has lent support.
The run-offs were conducted in the same nine governorates where the first round of voting occurred: Cairo, Alexandria, Port Said, Assiut, Luxor, Fayoum, Damietta, Kafr al-Sheikh and the Red Sea.
In the Cairo district of Nasr City the FJP lost to two young revolutionaries, namely Mostafa al-Naggar and Amr Ouda, while Mohamed Abu Hamed from the Egyptian Bloc won the professional seat in Cairo's sixth constituency. The Revolution Continues Coalition won the workers' seat in the second constituency in Damietta, according to state news agency MENA.
Another surprising outcome was the defeat of Brotherhood candidate Hamdy Hassan to the Salafi-led Nour Party in Alexandria's Mina al-Bassal constituency.
Also in Alexandria, Mahmoud al-Khodeiry, who has the support of the Brotherhood, won the professional seat in the Raml constituency following fierce competition with former parliamentarian and National Democratic Party (NDP) member Tareq Talaat Mostafa.
Another former NDP lawmaker, Haidar Baghdady, lost by a wide margin in Cairo's Gammaleya constituency.
Salafi leader Abdel Monem al-Shahhat lost the professional seat in the Montaza district to FJP-supported candidate Hosny Doweidar. This result brought relief to revolutionary youth and several political parties who were disturbed by Shahhat's recent hardline statements.
Translated from the Arabic Edition