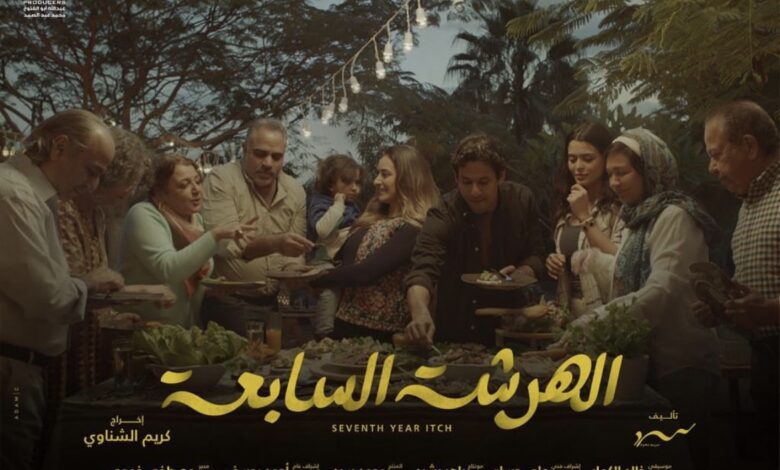 The Shahid VIP digital platform announced 15 Ramadan dramas for 2023, featuring talen such as Amr Saad, Hamada Helal, Menna Shalaby, Mona Zaki, Mohamed Ramadan, Dina al-Sherbiny, Chico, Hisham Maged, Amina Khalil, Ahmed Mekki, Reham Abdul Ghafour, Iyad Nassar, Ruby and others.
1-
Al-Aghar
The events of this series occur in the al-Darb al-Ahmar neighborhood in Cairo, where the hero, Youssef, finds himself accused of killing his mother and then responsible for his brothers.
Circumstances push him to travel undercover to a number of African countries, and he dives into the world of criminal gangs.
Al-Aghar stars Amr Saad, Sayed Ragab, Dora, Khaled Zaki, Mahmoud Kabil, Amr Abdel-Gelil, Arefa Abdel Rasoul, Ahmed Magdy, Sarah Salama, Nour al-Nabawy, Ahmed Safwat, Mohamed Gomaa, and Mustafa Abu Seree'.
2-"Al Maddah 3… The Legend of Love"
"Al-Maddah 3″ stars Hamada Helal Khaled Zaki, Muhammad Riyad, and Rania Farid Shawky, directed by Ahmed Samir Farag, and written by Amin Gamal.
The series recorded high views in the past two seasons.

The story of the series revolves around the return of the action hero, Saber, who devoted his life to treating people with the Qur'an and the Prophet's Sunnah.
Fate bears many surprises for him, especially when he has a child and things quickly turn dark when he is led to believe the child is not his, but rather the son of Satan.
He enters into many conflicts and is forced to travel to far places in the hope of finding the truth.
3-Taghyeer Gaw
"Taghyeer Gaw" stars Menna Shalaby, Iyad Nassar, Mervat Amin, Sherine, Saleh Bakri, Issam Omar, written by Mona al-Shimi, and directed by Maryam Abu Ouf.
"Taghyeer Gaw" revolves around Sherifa who has to deal with mother's addiction to tranquilizers, and who suffers from several diseases, in addition to her addiction to drinking alcohol.
She has a love story with a university doctor, played by Iyad Nassar.
4- "Elle'ba 3" (The Game 3)
"Elle'ba 3"series stars tarring Chico, Hisham Maged, Mohamed Tharwat, Ahmed Fathi, Mirna Gamil, May Kassab, Sami Maghawry, and Arefa Abdel Rasoul, written by Ahmed Saad Wali, and directed by Moataz El-Tuni.
"Elle'ba 3" is launched under the slogan "Playing with Adults", where "Mazo" and "Wasim" move to different horizons of games, competitions, and unconventional ideas to challenge each other.
Each of them uses his team members and additional external elements in hope of winning and collecting the largest amount of money. But many problems keep hindering them in a comic atmosphere.
5- Al-Harsha Al-Sabaa
"Al-Harsha Al-Sabaa" is tarring Amina Khalil Muhammad Shaheen, Ali Qassem, Asmaa Galal and Aida Riyad, written by Maryam Naoum, and directed by Karim Al-Shennawy.
"Al-Harsha Al-Sabaa" story revolves around the idea of losing love bond after marriage.
After a romantic love story that ends with marriage between the two heroes of the work, boredom seeps into marital life with the passage of years, and both sides of the relationship fall captive to frustration. Will the marriage succeed in continuing despite the challenges of time, jealousy, temptations, and responsibilities?
6- Rashid
"Rashid" stars Reham Abdel Ghafour and Mohamed Mamdouh, written by Wissam Sabry, and directed by Mai Mamdouh.
The events of the series begin in an accelerating and fast pace when Rashid is accused of killing his employer and stealing his money. Rashid spends his days trying to escape from prison to take revenge on those who imprisoned him and deprived him of the woman he loved.
7- Wesh w Dahr
"Wesh w Dahr" stars Reham Abdel Ghafour, Iyad Nassar, Islam Ibrahim, Tharaa Gibril, Mimi Gamal, Mahmoud Qabil, Mohsen Mansour, dialogue written by Shadi Abdullah and Ahmed Badawi, and directed by Maryam Abu Aouf.
The story of the series takes place in the city of Tanta, when circumstances force Gamal to impersonate a doctor, and Duha is also forced to work as a nurse and a folk dancer.
8- Al-Sandou (The Box)
Al-Sandou consists of 15 episodes. It stars Ahmed Dash, Hoda Al-Mufti, Samah Anwar, and Ali Qassem. The work is written by Mostafa Saqr and directed by Marwan Abdel Moneim.
The events of the series take place during Reem's birthday party, as she receives a mysterious gift, which is a strange box that includes incomprehensible contents and messages asking to save a person before they are killed, by searching the contents of the box and trying to uncover the mystery.
9- Jaafar al-Omda (Jaafar, the mayor)
The series stars Mohamed Ramadan, Zina, Hala Sidqi, Menna Fadali, Iman Al-Assi, Mai Kassab, Issam Al-Sakka, Munther Rayahna, Doaa Hakam, Bayoumi Fouad, Ahmed Fahmin, Tariq Al-Desouki, Ahmed Fathi, Farida Saif Al-Nasr, Ahmed Dash, Magdy Badr, and Salwa Othman, and written and directed by Mohamed Sami.
Ramadan plays the role of the mayor, who owns a contracting company, and is married to four women: May Kassab, Iman Al-Assi, Zina, and Menna Fadali.
10-"Taht al-Wesaya" (Under Guardianship)
The series is directed by Mohamed Shaker Khudair, starring Mona Zaki, Diab, Nisreen Amin, Rushdi al-Shami, Maha Nassar, Khaled Kamal.
It revolves around a woman who supports her family through working in the supply of fish and shrimp. She faces many problems with her family as well as at work.
11- Al-Soffara (The Whistle)
"Al-Soffara" is a comedy consisting of only 15 episodes. Its idea is taken from a foreign story entitled "A Sound of Thunder".
The series stars Ahmed Amin, Mahmoud Al-Bezawi, Taha Desouki, Hatem Salah, Mohamed Radwan, Aya Salah, and Samia Trabulsi. It is directed by Alaa Ismail.
Amin plays the role of Fouad who works as a tour guide, and steals an antique whistle from Siwa, that takes him back to the past, where his life is turned upside down.
12- Hadret al-Omda (Mr. Mayor)
"Hadret al-Omda" stars Ruby, Basma, Samiha Ayoub, Lotfi Labib, Salah Abdullah and Ahmed Badir, Dina, Muhammad Mahmoud Abdelaziz, Edward, Mahmoud Hafez, Ihab Fahmy, Ahmed Badir, Karim Abdel Khaleq, Muhammad Al-Sawy, Nahla Salama, and Hussam Dagher, written by Ibrahim Issa, and directed by Adel Adeeb.
The story of the series revolve around a professor of psychology at the American University in Cairo, whose life turns upside down when she responds to pressure from her family to return to her village in Upper Egypt and runs for the position of mayor.
"Souq el-Kanto" is written by Hany Sarhan, directed by Hussein Al-Manbawi, and starring Amir Karara, Mai Ezz Eddin, Fathi Abdel Wahhab, Maha Nassar, Abdelaziz Makhyoun, Tamer Nabil, Tharaa Jbeil, Salwa Othman,m, Diaa Abdel Khaleq, Ahmed Al-Tohamy, and Sherif Idris.
The events of the series revolve in 1930-1940s in downtown Cairo, about a young man embodied by Amir Karara whose life is turned upside down due to a quarrel between him and the merchants of the "Kanto Market", after which he is forced into a life of crime.

14- El-Kebir Awi 7
"El-Kebir Awi 7", starring Ahmed Mekki, Rahma Ahmed, Mohamed Salam, Bayoumy Fouad, Mostafa Gharib, Samaa Ibrahim and others, will be displayed on ONdrama channel. It is written by Mostafa Saqr and directed by Ahmed al-Gendy.
The series topped Ramadan 2022.
The seventh season witnesses marital disputes and problems between El-Kebir and Marbouha, a year after their marriage.

15-Kamel al-Adad
"Kamel al-Adad" stars Dina al-Sherbiny, Sherif Salama, Esaad Younes, Olfat Imam, directed by Khaled al-Halafawy.
The story revolves around the development of mutual admiration between Ahmed and Salma into a true bond
But despite their closeness and rapid development between them, each keeps a big secret and decides to postpone disclosing it for fear of the consequences on the relationship.