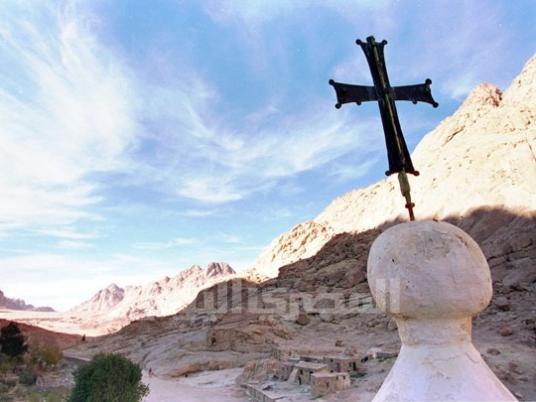 Al-Masry Al-Youm continues to monitor the tolerance between religions and the message of peace that you will notice as soon as you set foot in St. Catherine.
Life in the St. Catherine monastery is different than anywhere else in the world. Muslim Bedouins work in the monastery. They take tourists on a camel trip from Mount Sinai to the monastery. Their children sell artisan crafts to the tourists visiting the monastery.
Inside the monastery is a Fatimid mosque where Muslims pray next to the monks praying in the nearby church. The minaret of the mosque embraces the tower of the church.
In a spiritual journey, tourists climb the mountain in four hours, starting at midnight. The Muslims of them pray at the mosque, the Christians at the Church and the Jews at the synagogue.
Ahmed al-Gebaly, an elder of the Al-Gebaly tribe, says the monastery helps the needy, regardless of their religion.
"They bring doctors from Greece to stay one month every year to treat Muslim Bedouins," he said. "Sometimes they send patients for treatment abroad."
"There are 85 Muslim workers in the monastery," he added. "Ramadan and Christmas celebrations are shared here."
Mohamed Salem, head of the local council, says the relationship between the Greek monks and the Muslim Bedouins goes back many generations who have lived and died in this place.
Hamada Bahloul, director of the Visitors Center, says the tribe receives supplies and services from the monastery in return for manual labor and protection.
"The monks are the descendants of the soldiers that Emperor Justinian sent to build the monastery here 1,400 years ago," he said.
Edited translation from Al-Masry Al-Youm