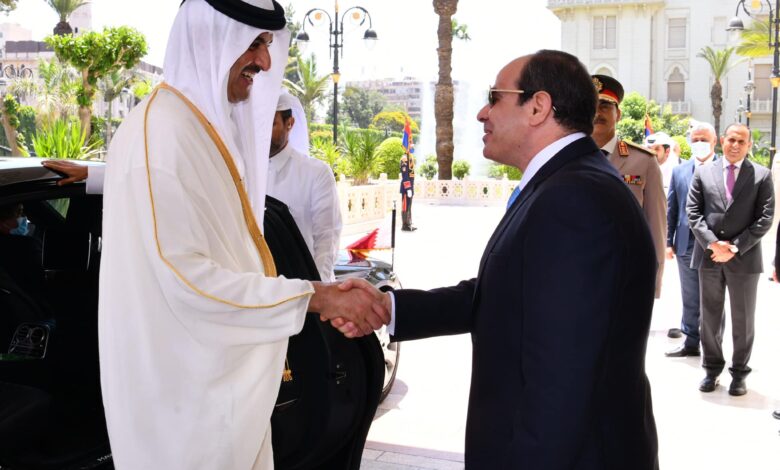 The Egyptian-Qatari summit between President Abdel Fattah al-Sisi and Emir Tamim bin Hamad Al Thani, Emir of the State of Qatar on Saturday, at the Ittihadeya Presidential Palace stressed on development of bilateral relations between the two countries in all fields, as well forming a consensus on maximizing cooperation.
The two leaders also discussed investment and stimulating trade exchange, as well as regional and international developments.
Egyptian presidential spokesperson Bassam Rady said that President Sisi praised the Emir of Qatar on the anniversary of his assumption of power.
He stressed that this visit embodies the progress witnessed by the Egyptian-Qatari relations, and consolidates the course of developing bilateral relations between the two countries during the coming period within a framework of mutual interest.
Tamim congratulated President Sisi on the occasion of the upcoming celebration of the anniversary of the June 30 Revolution.
The Emir of Qatar expressed his country's appreciation for Egypt's leadership and people, especially in light of its pivotal role in serving Arab issues and its efforts to strengthen Arab solidarity at all levels.
He also hailed the wise policy that Egypt follows under the leadership of President Sisi.
The Emir affirmed his country's desire to continue reciprocal steps towards pushing and strengthening various mechanisms of bilateral cooperation, through maximizing Qatari investments in Egypt and using broad investment opportunities available.
Rady said that it was agreed to develop bilateral cooperation in various fields, especially in the energy and agricultural sectors, in addition to investment cooperation and revitalizing the movement of trade exchange, especially with regard to enhancing the flow of all Qatari investments to Egypt.
The spokesperson added that during the meeting, regional developments were discussed.
The leaders agreed on the necessity of uniting all efforts of Arab countries, as well as strengthening joint coordination between the two countries to deal with the various crises in the region.