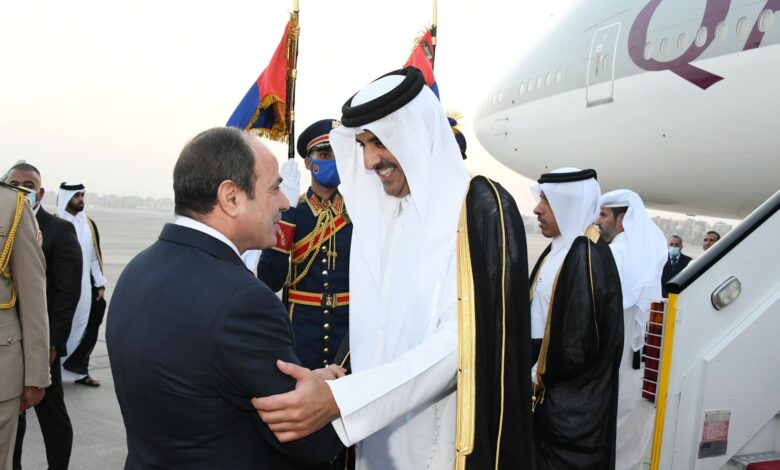 Egyptian President Abdel Fattah al-Sisi on Friday evening at Cairo Airport  Emir Tamim bin Hamad Al Thani, Emir of the State of Qatar, who has arrived Egypt for a two-day official visit – his first in seven years.
The spokesperson for the Egyptian Presidency Bassam Rady said that the visit is expected to include bilateral talks between the two leaders to address overall relations between the brotherly countries, in addition to discussing developments in regional and international political issues of common interest.
Sisi last met the Emir of Qatar in Iraq's capital Baghdad in August 2021, however Emir Tamim hasn't visited Egypt since the Arab League's 26th summit in Sharm el-Sheikh in March 2015.
Egypt and Qatar agreed to resume diplomatic relations in January 2021.
The agreements come after nearly four years of a row between Qatar and Egypt, Saudi Arabia, Bahrain, and the UAE over Qatar's alleged terrorism sponsorship and its close relations with Iran.
Saudi Arabia, the United Arab Emirates, Oman, Kuwait, Bahrain, and Qatar signed an agreement during the Gulf Cooperation Council (GCC)'s summit meeting in al-Ula for reconciliation.
Egypt and the other three countries involved in the dispute agreed to restore ties with Qatar immediately after the summit. The dispute included a trade and travel embargo against Qatar by the Arab quartet, which has now been lifted.
Relations between Egypt and Qatar became tense after the overthrow of the late President Mohamed Morsi and the Muslim Brotherhood in 2013. Egypt joined Saudi Arabia, the UAE, and Bahrain in cutting ties with Qatar on June 5, 2017.
Qatar has been mending its relations with the countries since they all signed the Al-Ula agreement on January 5, 2021.
The foreign ministers of Qatar and Egypt have recently exchanged official visits to Cairo and Doha, and the Emir of Qatar, Sheikh Tamim bin Hamad, and Egyptian President Abdel Fattah Al-Sisi exchanged visiting invitations, amid continuing talks to improve relations.