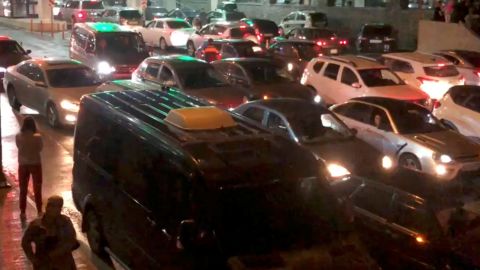 Russian lawmakers have drafted a bill requiring citizens to register online to book a specific date and time for crossing the country's borders, state news agency TASS reported Tuesday, citing an official document at their disposal.
The amendments to the transport law were prepared by Yevgeny Moskvichev, head of the State Duma Committee on Transport and Infrastructure Development, according to TASS.
"The passage of vehicles belonging to Russian carriers, foreign carriers, citizens of Russia, foreign citizens, stateless persons, and others on sections of highways in order to cross the state border of the Russian Federation is carried out on a reserved date and time in accordance with the procedure established by the government of the Russian Federation," reads the draft of the bill, reports TASS.
The amendments also introduce new measures of controlling the arrival of vehicles on the reserved date and time, and equipping checkpoints with means that would allow the forced stopping of vehicles, according to state news agency RIA Novosti.
In September, the announcement of a "partial mobilization" sparked an exodus from Russia as military-age men fled the country rather than risk being conscripted, with video footage showing long lines of traffic at land border crossings into several neighboring countries, as well as surging airfares and sold-out flights.