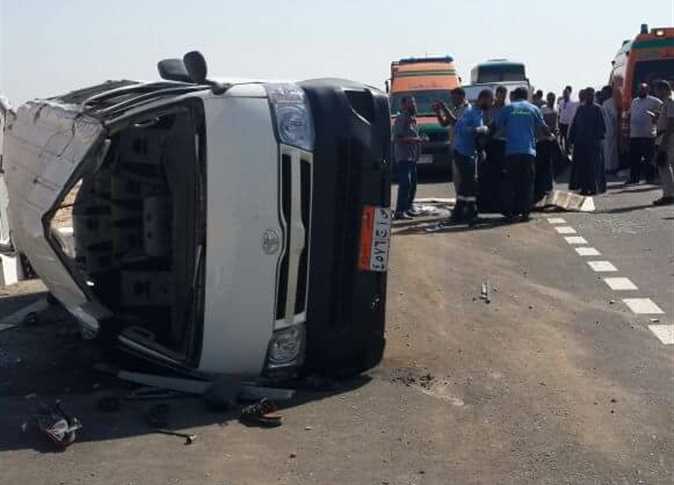 Eight people were killed and 38 others injured in a bus crash at Sukhna – Galala Road.
The Director of the Suez Ambulance Authority Mohamed Tantawi dispatched 30 ambulances to the site of the accident in Galala to transport the injured to the hospital, while the deceased were sent to the Suez Morgue.
A medical source said that there are serious injuries vary between concussion and bleeding, while the dead remain unidentified.
Another informed source said that the bus was heading from Cairo to a park in al-Galala, where they were on their way to the Aqua Park.
The source added that the accident occurred as a result of the excessive speed from the bus driver, who caused the bus to overturn.
The roof of the bus was torn off due to the severity of the accident.
Suez Governor Abdel-Mageed Saqr assigned the governorate's executive leaders to be at the maximum preparedness inside the general hospital and ensure the best medical service for all the injured.
He also ordered the provision of all medical supplies and medicines to rescue and aid the injured, and continuous follow-up to the treatment of the injured, wishing them a speedy recovery.
Car accidents in Egypt rose by 17.8 percent in 2019, according to the Central Agency for Public Mobilization and Statistics (CAPMAS) reported, with 9,992 reported accidents compared to 8,480 in 2018.
In a June 2020 report on traffic accidents, the agency added that the number of car accident deaths rose to 3,484 in 2019 – an increase of 12.9 percent.
In 2019, the reported recorded one accident per 10,000 people, while the rate for vehicles was 0.9 accidents per 1,000 vehicles, and the death rate was 3.6 deaths per 100,000 people.
The rate of car accidents within Egypt increased to 27.4 accidents per day in 2019, it said.
CAPMAS attributed the main cause of car accidents to human error at 79.7 percent of the total road accident causes in 2019, followed by technical vehicle defects at 13.5 percent.