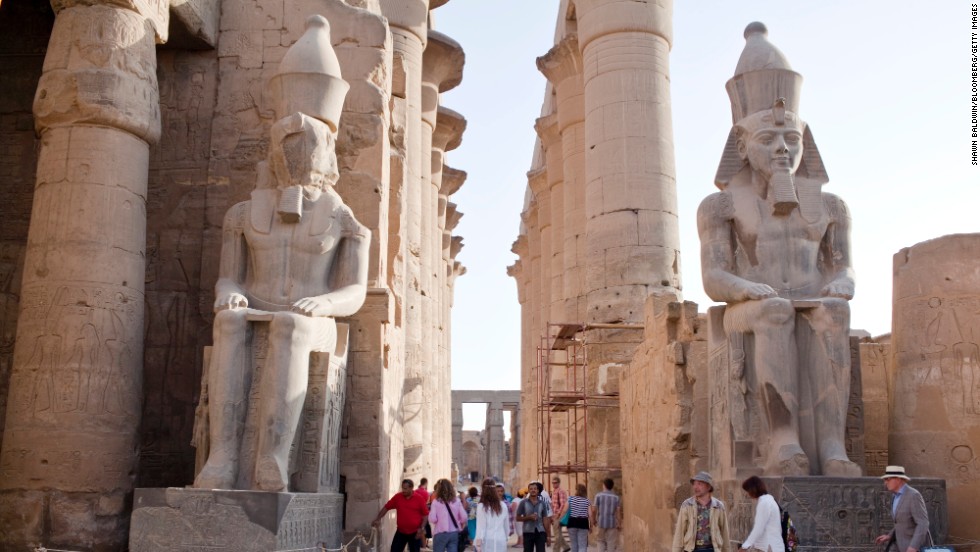 Total tourism receipts in Egypt, or expenditures made by inbound visitors to the country, stood at $16.4 billion in 2019, and Egypt's tourism industry is on its way to a remarkable recovery after years of political instability and security concerns, with spending from foreign visitors to the country to 29.7 billion by 2024, according to Danielle Curtis, Exhibition Director ME at the Arabian Travel Market.
The Arabian Travel Market, a leading international travel and tourism event in the Middle East, is considered by industry professionals to be a barometer for the region's tourism sector, and hosted nearly 40,000 people from over 150 countries in 2019. This year's event is set to kick off at the Dubai World Trade Center on April 19, 2020 and run through April 22, and aims to introduce tourism professionals to hundreds of destinations, attractions and brands.
Tourism Minister at the time Rania Al-Mashat attended the 2019 Arabian Travel Market last spring and stressed the importance of the event in light of ongoing efforts by Egypt's Tourism Ministry to attract more Arab tourists to Egypt.
In light of a recent resurgence in tourists after years of political instability and security concerns, Egypt is set to return to the Arabic Travel Market in 2020 with some of the country's most prominent tourism companies, including the Egyptian Tourism Promotion Board, Dana Tours and Orascom Development Egypt, according to a press release from the event's organizers.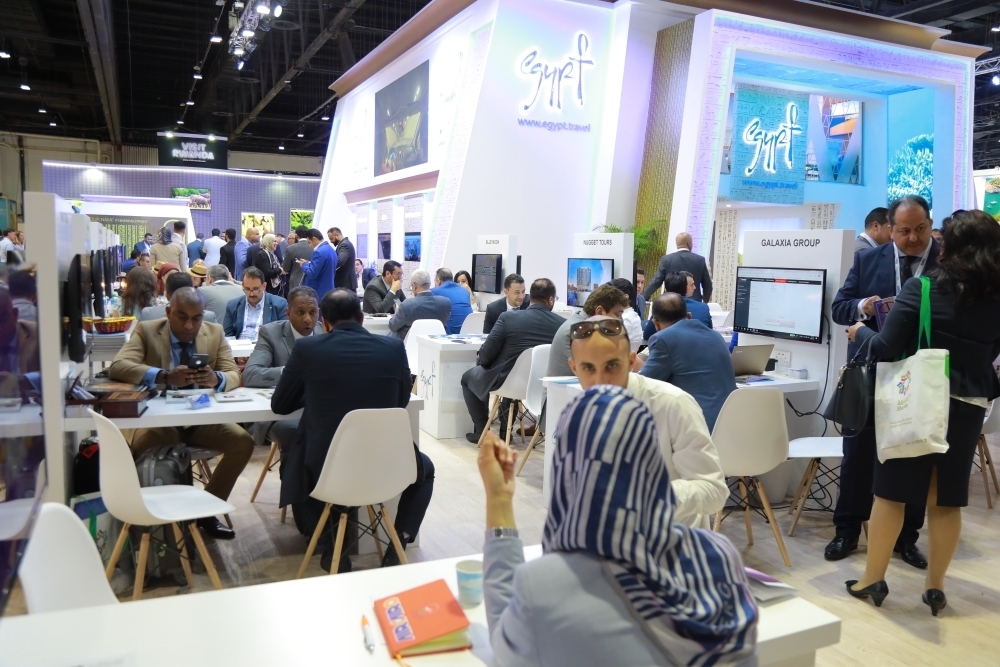 Photos of Egypt's stand at the Arabic Travel Market in 2019 (courtesy of ATM)
'Remarkable growth' in 2019
Tourism receipts are set to achieve an average 13% compound annual growth rate over the next five years, eventually reaching nearly 30 billion in 2024, Curtis said, commenting as well on growth in Egypt's tourism sector over the last year.
"Over the last 12 months, Egypt's tourism industry has witnessed remarkable growth, with arrivals up 57.5% from 11.3 million in 2018 to 17.8 million in 2019. Growth has been fueled by the cheaper Egyptian Pound and government incentives for charter airlines operating international flights," Curtis said. 
Egypt's top source market is Germany, with 2.48 million arrivals in 2019, a 46% increase compared to the previous year. 
German tourists spent $1.22 billion in the country in 2019. By 2024, German arrivals to Egypt are expected to reach 2.9 million, with total projected spending predicted to jump to $2.18 billion.   
Following Germany, the second largest source market in 2019 was the Ukraine, with 1.49 million visitors, a nearly 50% increase compared to the previous year. The jump has primarily been driven by the availability of direct flights, which resumed after a two-year suspension in April 2018.
While arrivals from Europe are expected to be the largest on a regional basis, increasing from 6.2 million in 2018 to 9.1 million tourists predicted in 2022, arrivals from the GCC will represent one of the highest growth rates as well in the country.  
Comeback on the Red Sea
Data and analytics specialist STR said that Egypt's Red Sea resort town of Sharm el-Sheikh had led the recovery of Egypt's tourism sector, with revenue per available room, or RevPAR, rebounding 315% between 2016 and 2019. 
Hurghada followed closely behind with a 311% increase, whereas Cairo and Giza recorded 138% growth, according to the ATM press release.
In December 2019, the first UK flight to Sharm el-Sheikh since the 2015 UK ban landed at Sharm El-Sheikh International airport, following a four-year hiatus after the bombing of a Russian passenger plane in the Sinai Peninsula shortly after take-off, killing all 224 people on board.
Days after the ban on UK flights to Sharm al-Sheikh was lifted in October of last year, British Ambassador to Egypt Geoffrey Adams claimed that nearly half a million British citizens would visit Egypt before the end of 2020, a major boost for Egyptian tourism. 
"(Lifting the flight ban to Sharm el-Sheikh) should lift UK visitor numbers significantly in 2020 and beyond," Curtis said.
After the flight ban was imposed, according to STR figures, hotel occupancy for the following year was a mere 33.6%. 
Last year, however, hotel occupancy climbed to 59.7%. 
Earlier this January, low-cost airline EasyJet also announced that it would resume flights between the UK and Egypt's Sharm el-Sheikh in June 2020.
Russia's Federal Security Service (FSB) designated the 2015 incident as a terrorist attack and the country also suspended flights to Egypt, but in 2018, Russia's largest airliner Aeroflot resumed flights to Cairo.
Russian tourists held the lion's share of tourism in the Red Sea resort towns of Sharm el-Sheikh and Hurghada until the decision to suspend flights, and the area is also popular among European tourists for water sports, nightlife, and safari tours.
The Red Sea vacation spot of Hurghada, for example, is expected to see 41 percent growth in its tourism sector during 2020, which will further boost its ranking, according to a 2019 report from Euromonitor International.
"Looking further than its current top source markets, the 2020 influx of UK visitors, the bulk of Russian visitors still to come back, as well as the Chinese market — the future looks promising for Egyptian tourism," Curtis said. 
Tourism from the Gulf
Its estimated that GCC tourists to Egypt will spend $2.36 billion in 2020, representing an increase of 11% compared to figures from 2019, with visitors from Saudi Arabia driving the growth, according to new data published ahead of ATM 2020.
Visitors from Saudi Arabia to Egypt made 1,410 trips in 2019, but some experts forecast 1.8 million tourists from the Kingdom visiting Egypt by 2024, a Compound Annual Growth Rate (CAGR) of 5%. 
Meanwhile, Saudi Arabian visitors to Egypt spent $633 million in 2019, a figure that is also estimated to grow at a CAGR of 11%, reaching $1.13 billion by 2024, according to research from Colliers International, which was commissioned by the organizer of the Arabian Travel Market, Reed Travel Exhibitions, a leading travel and tourism events organizer.
"And Egypt also has a significant outbound market for the GCC. 1.84 million visitors arrived in 2019 and this is estimated to increase to 2.64 million by 2024," Curtis said.   
Image: Tourists make their way past statues inside Luxor Temple in Luxor, Egypt, on Thursday, April 25, 2013. Egypt ranked last in terms of security and safety on the World Economic Forum's 2013 Travel and Tourism Competitiveness Index, but efforts to tighten security and the easing of flight restriction have aided the recovery of the once-ailing tourism sector (Shawn Baldwin/Bloomberg)