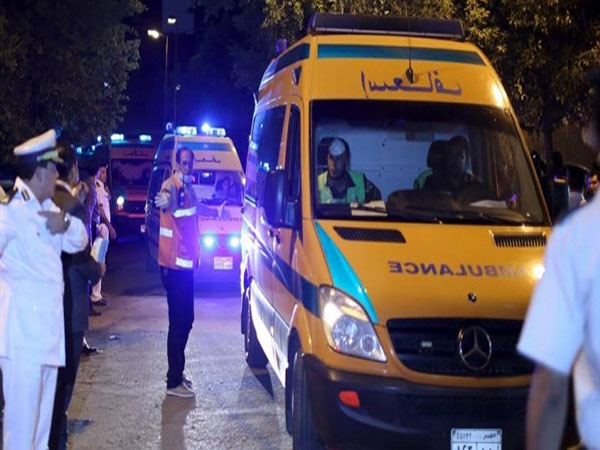 Minister of Higher Education and Scientific Research and Acting Minister of Health Khaled Abdel-Ghaffar ordered that response rates for ambulance reports be reduced.
Current response times stand between eight to 15 minutes.
He also ordered a financial reward to ambulance authority workers in appreciation of their efforts and hard work, especially during the Eid al-Fitr period.
During an inspection tour at the headquarters of the Ambulance Authority in Giza, on Monday, Abdel-Ghaffar reviewed the authority's automated work plan which links all hospitals and ambulance points in all governorates through the central operating rooms, to ensure maximum workflow in all ambulance stations.
Ambulance stations are currently placed at 1,609 points, as well as 11 river ambulance boats, with a capacity of 13,000 ambulance crews.
The minister listened to a detailed explanation on the mechanism on handling reports, done through the unified national network for emergency and public safety.
These measures include locating the caller automatically as soon as the communication is received and directing the nearest ambulance to their geographical location, transporting them to the nearest hospital in a short period of time – in coordination between all concerned authorities to quickly respond to emergency situations in various sectors.
The minister also inspected the emergency room of the authority, which is concerned with receiving reports from major accidents, and directed the speedy issuance of reports on cases as soon as they arrived at hospitals.
He also followed up on the equipment for ambulances and river ambulances.
Abdel-Ghaffar ordered that ambulances be equipped at the highest level, provided with the most up-to-date devices, oxygen cylinders, medicines and medical supplies.
A statement by the Ministry of Health assured that all ambulance points are equipped with the latest wireless communication devices, which speed up the pace of communication with incoming reports, reducing response time and speeding up the transfer of patients to hospitals.
It assured that continued development of the authority through its main centers, operating rooms and emergency points in all governorates, in line with the state's 2030 vision.