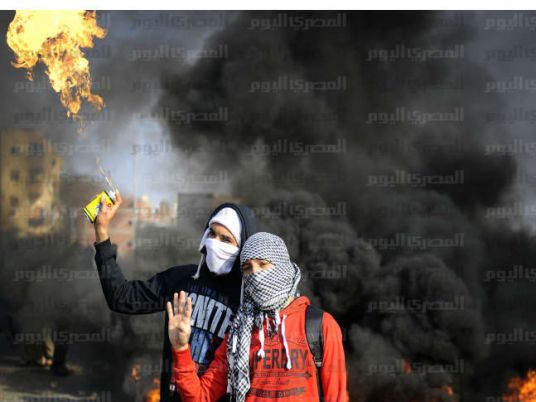 The Minya Criminal Court sentenced Supreme Guide of the Muslim Brotherhood Mohamed Badei and 87 others to life in prison for storming, burning and looting the al-Adwa police station, killing a police sergeant and eight people following the 2013 dispersals of the Rabaa and Nahda sit-ins.
Thirty-two other defendants were sentenced to 15 years of rigorous imprisonment. Forty-two were sentenced to seven years of rigorous imprisonment. Twenty-two were sentenced to two years of hard labor in prison and 16 were sentenced to ten years of rigorous imprisonment. One defendant was sentenced to three years in prison for being a minor. Twenty-one defendants were sentenced to five years of rigorous imprisonment.
Four hundred and sixty two defendants have been acquitted.
The court upheld the death sentence against four defendants in absentia.
The case was dropped for six defendants following their deaths. The court did not issue a sentence against four defendants and referred them to public prosecutors for being below 15 years old, pursuant to Article 122 of the Children's Law.
The case was dropped against a defendant believed to have mental disabilities.
The Criminal Court sentenced in the same case, in 2015, 280 defendants to death and acquitted 400 others. Four were sentenced to life in prison. The defendants appealed the ruling and a retrial was held. Prosecutors added 150 defendants to the case during retrial.
Edited translation from Al-Masry Al-Youm