On a hot spring day in Cairo, a group of amateur and professional photographers walked the city's streets, trying to capture perfect photos for the various themes of the Egypt Photo Marathon. The concept is simple: Each photographer goes on a picture marathon of six or 12 hours; they go back to "meeting points" every three hours to take the next three themes they are asked to express through their photographs. The meeting point in Cairo was at the Faculty of Fine Arts of Helwan University in Zamalek.
Organized by the Danish Egyptian Dialogue Institute in collaboration with International Media Support and a number of local cultural institutions, the marathon's second iteration took place on Saturday in three Egyptian cities: Cairo, Alexandria and Ismailia. Eighty-four photographers showed up at the meeting points to pick up clues on the overall themes of leadership, decision-making and coexistence.
Writer Mona Prince, along with artist-photographer Rana El Nemr, who has been photographing the city for years, chose the 2012 themes. Each theme has to be represented by only one picture. For those who participated for the whole 12 hours, the set had to be submitted at 10 pm, while the six-hour marathon participants submitted their work at 4 pm.
Once the winners are announced, they will receive prizes that include professional cameras and vouchers to photography courses at the Contemporary Image Collective. But for the organizers, the main goal is to engage the public with a game that has photography as the primary challenge, says Mona Bur, one of the event's organizers. "It's also a dialogue project with people on the street and among the different participating photographers. It's like a social gathering around art."
For the head of International Media Support, Michael Irving Jensen, "It is also an opportunity to have an archive of the city which is continuously changing. The themes that have been chosen are specific; it's not about conflict, but about the city itself."
The Egypt competition which started last year in Cairo, only 10 days before 25 January, was inspired by the Danish photo marathon, a worldwide event which takes place in 25 different cities, the most recent being Ramallah and Jerusalem.
After the success of last's year's marathon in Cairo, many participants signed up again. Khaled al-Bakry is a furniture designer who studies engineering in Alexandria. On Saturday, he came from his hometown, Kafr al-Sheikh, to Cairo to participate in the photo marathon for the second time.
"I've been practicing photography seriously for two years now," he told Egypt Independent. "I love street photography and I think that this event is very inspiring, although the themes can be very difficult to represent through images."
Indeed, the first three themes that Bakry had to catch with his camera were "shut, shut, shut," "what they want" and "one hand." Sitting in a cafe, he had to think carefully about how he could catch the right picture and where to go.
"This year, the themes are weird and harder than in 2011," he said. "But now the context is also different. After 25 January, people became aware that photography is very important; and photojournalism now strongly impacts people's minds. It might be easier this year to take pictures on the streets of Cairo; it depends where you go."
Last year, Khaled wanted to take a picture in front of the National Democratic Party building, but the police took his camera and erased most of his photographs for the competition. "Today, the main problem I might face is people being intimidated by the camera and not accepting having their pictures taken."
Taking off from Zamalek, he went to Tahrir Square, where he attracted the attention of a curious crowd. People watched the photographer at work and took pictures of him with their cellphones.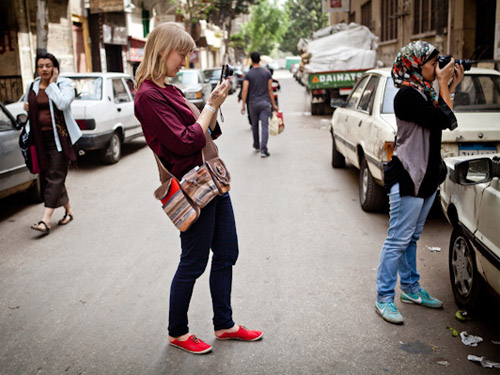 But many of the participants are taking part in the marathon for the first time. Henna Hernodt is from Denmark. She only arrived in Cairo a week ago, doing research for her thesis on arts and activism.
"I heard about the marathon while I was visiting the Danish Egyptian Dialogue Institute. I thought it might be interesting for my thesis. So, I decided to be part of this experience and meet lots of photographers from Cairo, although I'm not a photographer," she said. "As I'm new in the city, the themes seem very difficult; I don't really know what they refer to."
Hernodt, however, quickly started talking to other photographers like Mai al-Shazly, and joined them on their photography adventure.
Shazly, who went to business school, has been practicing photography for three years now as a hobby with her friends. It was the first time she participated in this kind of competition.
"I think it's very inspiring to try to capture pictures through all these different themes; you need to be creative to cope with the subject," she said. Shazly is used to taking abstract pictures, but here it's more like "documenting a subject," she explained. She seemed, however, to enjoy the challenge.
Taking part in the six-hour marathon, Shazly's second set of themes were "18+," "talk in silence" and "I will die." She decided to go to Tahrir Square and Mohamed Mahmoud Street to find the right spots. She didn't seem too anxious about photographing on the street.
"Now it's easier to take pictures in some places. Before the revolution, photography was not as popular as it is now. I hope it will continue this way. We will see [how things turn out] after the [presidential] election; we need more freedom to take pictures wherever we go."
After an exhausting day in the heat, some the marathon's participants shared their views about the photographs they had taken before handing them in at the Faculty of Fine Arts. They will have to wait, however, until the end of April, a month before the presidential election begins, to know the winners.