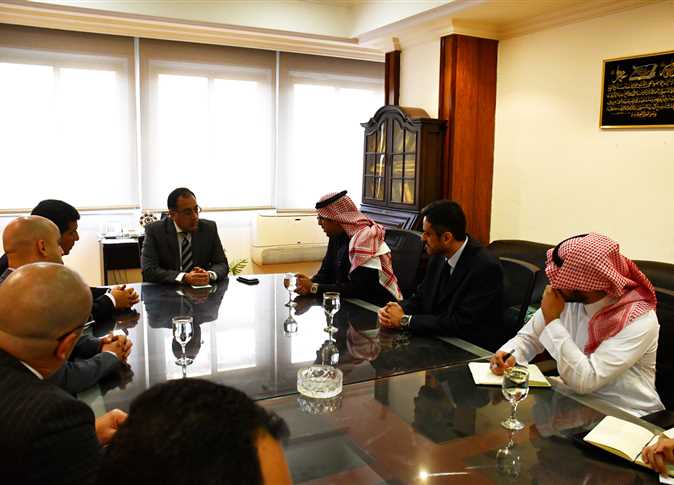 Egypt Housing Minister Mostafa Madbouli met on Friday a delegation from the Saudi Al-Tayyar Group, headed by its Executive Director Abdullah Al-Dawood, and the managing director of Al-Tayyar Travel Group in Egypt Ashraf Shiha.
Madbouli discussed with the delegation the chances of the group investing in the New al-Alamein City and the New Administrative Capital.
Dawood said that his groups has the largest tourism company in the Arab world, and that Egypt is the second largest tourist destination for them, and that the company is currently working to increase its investments in Egypt, as well as job opportunities available from its projects.
Madbouli welcomed the Saudi investors and said that there are some tourism and and hotel projects in New al-Alamein City and the New Administrative Capital.
The minister said that for the new al-Alamein City, it is one of the important cities on the Mediterranean coast, and that the city is planned to contain about 25,000 hotel rooms, and that there are some major tourist entities wanting to invest in the city.
"We have signed a cooperation protocol with the Marriott International Group and there are other protocols to be signed within days. The New al-Alamein City is an integrated city operating all year. There will be universities and they are being constructed. You can invest in building hotel towers directly on the sea. We are interested that your group be present in the city, because of its large investments in this sector," Madbouli said.
He added that the ministry also has 20 towers in the New Administrative Capital, which will be constructed in cooperation with the world's largest consulting firms, and CSCEC of China, one of the largest international construction companies. It is available to cooperate with the group to acquire and manage one of these towers, he stressed.
Edited translation from Al-Masry Al-Youm