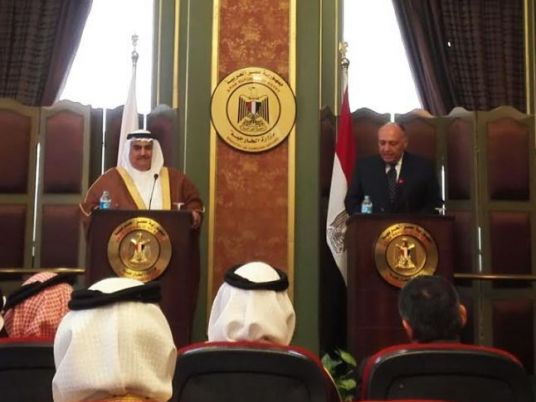 Egypt and Bahrain reiterated their adherence to the 13 demands and six principles of the Arab quartet as a basis for solving their political crisis with Qatar, stressing that all attempts to circumvent these demands will lead to prolonging the crisis.
The two sides praised Kuwait's mediation efforts to solve the crisis.
"At the invitation of Bahraini Foreign Minister Sheikh Khalid bin Ahmed bin Mohammed Al Khalifa, Egypt's Foreign Minister Sameh Shoukry paid a visit to the Kingdom of Bahrain," read a joint statement issued on Sunday as part of the 10th Bahrain-Egypt joint session held in Manama.
The two sides reviewed bilateral relations and stressed the importance of continuing and activating cooperation between the two brotherly countries.
They signed a number of agreements, memorandums of understanding and executive programs, including an agreement on customs cooperation; visa exemptions for holders of diplomatic, special and important passports; a memorandum of understanding to form a joint committee for consular affairs; a memorandum of understanding in the fields of electricity, water and renewable energy; a memorandum of understanding in the field of parliamentary cooperation; a memorandum of understanding in the field of cultural cooperation; an executive program for the years 2019-2020 for the exchange of experiences between the Ministry of Municipalities and Urban Planning Affairs in Bahrain and the Egyptian Agriculture Ministry; and others.
Egypt, Saudi Arabia, the United Arab Emirates and Bahrain initiated a diplomatic boycott against Qatar in May 2017.
In June 2017, the four nations imposed sanctions on Qatar, cutting diplomatic and travel ties, after accusing the country of supporting the Muslim Brotherhood, fostering terrorism in the region, and allying with their regional foe Iran – all of which Qatar denied.
The nations then gave Qatar 10 days to comply with a list of 13 demands, including the closure of the Al-Jazeera international TV network, the severing of links with Iran, the closure of a Turkish military base on Qatari soil, and the severing of links with Hamas and the Muslim Brotherhood.
Edited translation from Al-Masry Al-Youm