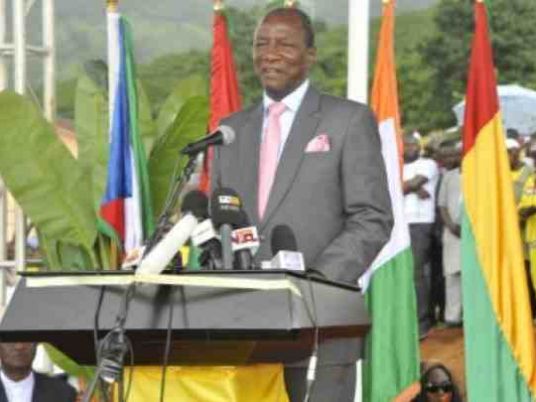 Clashes between supporters of Guinea's ruling party and opposition activists left at least one dead and more than 80 wounded, a charity said, as tension mounts ahead of next week's presidential election.
Authorities declared a curfew across the southwestern city of N'Zerekore after fighting gripped the city late into Saturday night, the second major outbreak of violence in the run-up to the October 11 polls.
"Our teams, working with the Guinean Red Cross, helped the medical team at the regional hospital of N'Zerekore to care for around 80 people injured by gunshots or rocks," said Olivier van Eyll, the head of medical charity Alima's Guinea mission.
"Unfortunately there was a death among the wounded," he told AFP.
The higher toll comes after a hospital source earlier told AFP at least 16 people were admitted to hospital with bullet wounds following the unrest, while six others came in with injuries caused by sticks and stones.
A source in another hospital spoke of "around a dozen young people" injured.
The violence in Guinea's second-largest city comes after at least 17 people were wounded in clashes between rival factions in the northern town of Koundara in late September, according to witnesses and security sources.
The trouble began in N'Zerekore on Friday afternoon during a visit by President Alpha Conde, who is seeking re-election, and his supporters.
Local traders, many of whom belong to the Fulani ethnic group, traditionally loyal to opposition challenger Cellou Dalein Diallo, were angered when they were asked to close their shops for his arrival.
"That's what lit the fire," a local police official told AFP on condition of anonymity.
Local residents confirmed his version of events. "Stones were thrown and there are numerous injuries on both sides," one witness said.
Government officials and local authorities were not immediately available for comment.
Eight contenders — including Conde and Diallo — have been approved as candidates for the country's second democratic presidential election.
Guinea's opposition on Thursday called for the vote to be postponed until later in October to allow the electoral commission to correct "anomalies and irregularities in the electoral roll".