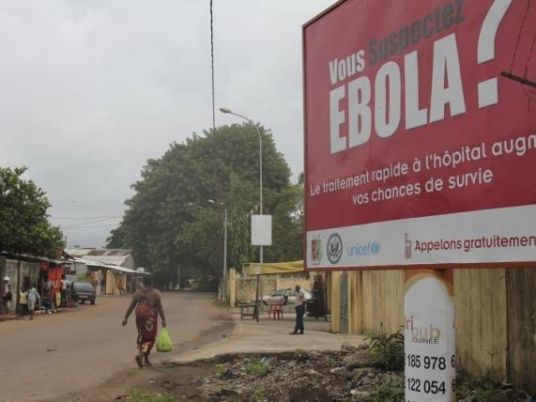 Guinea will soon vaccinate people who have come into contact with more than 500 men who have recovered from Ebola, a senior health official said, the first time it has vaccinated the contacts of survivors.
The decision reflects research that indicates Ebola can remain in the bodily fluids of survivors for months. The contacts will include but will not be limited to sexual partners, said Fode Tass Sylla, the spokesman for the West African nation's centre for the fight against Ebola.
"We know the virus can stay in the sperm of a healed patient for a certain period of time," Sylla said. "That's why we want to vaccinate the circles of 501 men, to avoid all risk of spreading the disease."
The vaccinations will begin in the next few days, Sylla said. The centre also plans an awareness campaign to warn mothers who have recovered from the virus against breastfeeding their newborns, he said.
One of three countries at the epicentre of the world's worst recorded Ebola outbreak, along with Liberia and Sierra Leone, Guinea was declared free of active transmissions of the virus in December 2015. But it announced eight new cases last month.
There are 10,000 survivors of the deadly hemorrhagic fever in Guinea, Liberia and Sierra Leone, according to the World Health Organisation.
The WHO said 800 possible contacts of people suffering from Ebola had been vaccinated against the virus in the so-called "ring vaccination" method. That means swiftly vaccinating anyone who has come into contact with an Ebola sufferer and contacts of theirs. More than 1,000 people were under observation.
Liberia, which has declared the outbreak over three times, closed its border with Guinea after its neighbour announced its fresh cases.
Liberia announced a new Ebola case, a 30-year-old woman who died en route to the hospital, on Friday. On Saturday, the ministry of health said she had traveled to Guinea, where it believed she had contracted the disease.
"The woman travelled to Guinea and must have contracted the virus from there," said Sorbor George, the spokesman at the ministry of health.
Four other relatives of the victim, including her seven-year-old daughter, have been identified as "high-risk" and are being monitored in an Ebola treatment center, George said.
Another 46 contacts are being monitored. Ten healthcare workers at the clinic where the patient had first sought treatment have also been placed under voluntary precautionary observation.
The World Health Organisation announced earlier this week that Ebola was no longer considered to be a public health emergency.