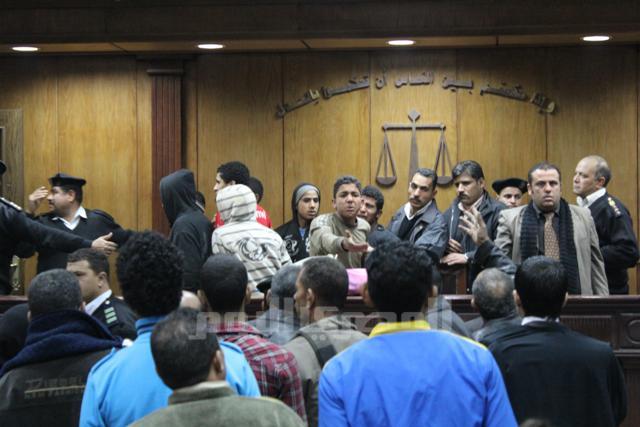 In a small cell in South Cairo Court Complex, a 12-year-old child sat behind bars awaiting his hearing earlier this month. Mohamed Gomaa, a student in his second preparatory year, held his bandaged hand in pain. A hospital doctor would later confirm that two of his fingers were broken. The child quietly recalls being dragged away from Mohamed Mahmoud Street and being beaten with batons by security forces.
In court, Gomaa's frail figure suddenly straightened up when a group of parents rushed in, searching for their children behind bars. The boy's eyes darted back and forth, searching for his father. When their eyes met, he broke into tears.
Gomaa, along with 76 other defendants, had been arrested five days earlier, on 4 February, near the interior ministry. A total of 243 were arrested during clashes that left at least 12 dead, 2,500 injured and the Real Estate Tax Authority headquarters on fire.
Many of those arrested during the clashes in downtown Cairo were under the age of 18, according to Mostafa el-Alfy, a lawyer with the Egyptian Center for Economic and Social Rights. The law states that all individuals under the age of 18 are classified as children, and should be treated in accordance with Egyptian Child Law, which in Article 112 of Law 12/1996 states that children may not be detained, placed in custody or imprisoned with adults. The law also states that children under the age of 15 should not be detained by the police.
Lawyers and family members of the arrested children, however, say the public prosecutor's office violated a number of the statutes in Law 12/1996.
Upon arrest, the children were detained overnight in Abdeen Police Station, where, according to an officer there, they were held in a separate cell for children. However, several children and lawyer said the minors were locked in the same room as older men — in violation of the law.
According to human rights lawyers, the Interior Ministry has been using children recently as scapegoats to calm public opinion when a disastrous situation takes place. "It is a way to prove that they have been doing their job in catching the criminals behind the chaos that has been disturbing Egypt's security now for over a year," said Alfy.
Alfy explained that the police arrested people randomly from the area surrounding the Interior Ministry. "None of the security forces would dare enter Mohamed Mahmoud Street to arrest people from within the protesters," he said.
The charges facing the children include unlawful assembly, assaulting public property and employees, destroying public property and disturbing traffic.
Hany Samir, Gomaa's lawyer, claimed that most reports are identical and fabricated. "The defendants have to sign or else they will be brutally beaten."
"I am very saddened to say that our judiciary system is still not impartial or independent. This case is not a normal criminal case with valid evidence; it is a political case. If politics are taken away from this case, those people will be released," Alfy said.
After spending a night at the police station, the children were questioned by a public prosecutor, who ordered all defendants be held at Tora Prison Complex for 15 days pending investigations.
Alfy adds, "The Egyptian child law says that no child under the age of 15 should be detained even for one day," referring to Article 101 of Law No. 12.
At least five children aged 12-15 were transferred with the older children to the facility at Tora prison on 5 February. The children spent at least four extra nights in detention with adults, according to Gomaa.
The prosecutors assured that children under the age of 15 should not be jailed, especially with adults. However, they added that the verdict usually given in such circumstances is Eida', which translates to deposit, rather than "imprisonment;" meaning that they should be sent to social care institutes or juvenile facilities.
The prosecutors, who spoke under condition of anonymity because they are not allowed to comment on an ongoing case, insisted they had not violated the law.
"If there were any violations, the party implementing it is to be blamed — the Interior Ministry," a prosecutor told Egypt Independent, adding that any violations of the law are not intended and are only out of necessity. "Maybe it wasn't safe during that time to transfer the children there, or maybe the facilities were very crowded so there wasn't enough space," he said.
Interior Ministry spokesperson Ayman Helmy refused to respond to accusations regarding the children's mistreatment. Helmy told Egypt Independent to refer the questions to the prosecution, claiming that this is not the Interior Ministry's concern or specialization.
Gomaa quietly recollects being insulted in prison, as well as being "treated very badly" by officers. "We slept on cold tiles, covered by blankets," the preteen said.
Along with two other children, Gomaa stood handcuffed behind bars on Thursday, 9 February in Abdeen Police Station. These children, all under the age of 15, were being delivered to their parents, who were instructed to wait outside the police station. The boys were whispering and chuckling.
According to Dalia Danish, a psychologist and neuroscientist, laughing indicates their dissociation, a common symptom of trauma. Dissociation is when the person who has experienced a traumatic event separates her or himself from the event.
The officer, however, would not let the children go without one last act of humiliation, which is not just a violation of humanity, but also a violation of the law. Article 1 of the law No. 12 of 1996 states that, "The state shall ensure the protection of childhood…within the framework of freedom and human dignity."
"Shut up, you scoundrels," shouted an officer, amid the process of paperwork required for the children's release. "If I hear one more sound, I will send you back to prison and make you spend another night there."
The boys whisper again, leading the officer to icily call out to his colleague, "Get me those handcuffs, we're sending them back to prison."
Khaled, Gomaa's father, says he was also humiliated by the prosecutor in front of his son the first time he was questioned. According to Khaled, when he asked for his son to be treated for his broken fingers, the prosecutor accused him of sending his son to get injured in Tahrir so he can get thousands of pounds in compensation from the government, also adding that breaking his fingers "will teach him a lesson."
However, public prosecutors denied ignoring injuries of any of the defendants, adding that if a defendant is injured, he is questioned as both a victim and a suspect. "We sent defendants with scratches and bruises to the forensic doctor, how could we ignore a child with a broken hand?" the prosecutor said.
Gomaa said he was checked by a doctor in prison, two days after he was injured. The doctor gave him a bandage and a painkiller.
Such an experience can be especially traumatizing to young children. According to Law 12/1996, the state is supposed to help protect a child's rights and welfare, and ensure that children are provided with suitable conditions for an appropriate upbringing, but it is the state that ends up potentially scarring those young children by abusing them physically as well as psychologically.
"How could you torture a child more than putting him in prison with adults? Even if you don't physically torture him, that is enough to horrify a child," Alfy, the lawyer, said.
Alfy adds that it is not realistic for children to be behind these crimes.
"Children in Egypt have apparently become superheroes since last January," he adds sarcastically. "One child can burn down the Interior Ministry in no time, wave his hand to bring down the cabinet building, stretch his leg to bring down Parliament building and nibble on Central Security Forces trucks on his way back home."