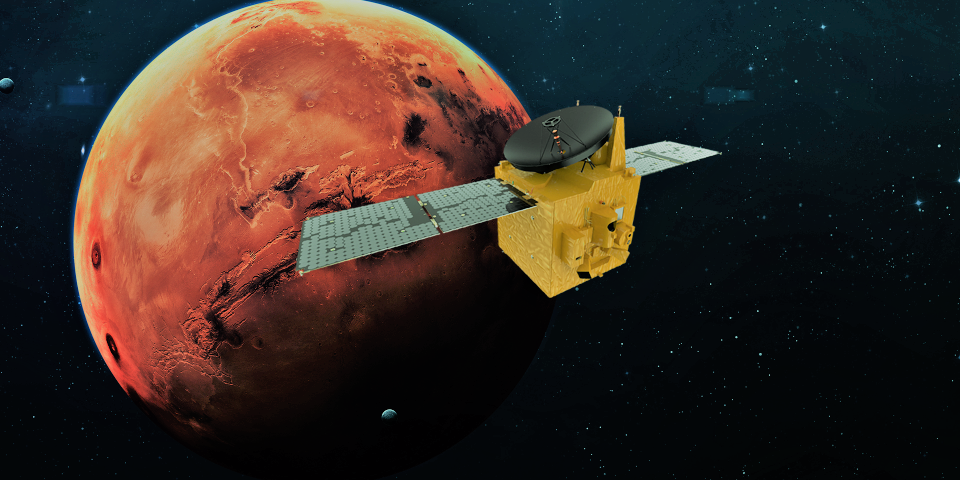 The Cairo Tower on Tuesday decorated itself in red, in celebration of the arrival of the Emirati Hope Probe to its orbit on Mars, making the UAE the fifth country to reach the planet.
President Abdel Fattah al-Sisi congratulated the UAE's achievement on Facebook, saying: "I proudly followed the arrival of the Hope Probe to Mars, which is an unprecedented step in the field of scientific research and heralds a scientific renaissance in the Arab region."
"Greetings to the sisterly United Arab Emirates, its leaders and people, and to all its geniuses who planned and designed this experience in an attempt to create a new reality, despite all the extreme challenges at the present time."
He concluded: "The experience will not be the end of the road in exploring new horizons in our great world. The Arab mind is ambitious that does not know the impossible."
Radio signals from Mars to Earth take about 20 minutes to be received. To overcome this issue, the Hope Probe was designed in such a way that it can complete the capture process automatically without the need for control from the earth station.
The probe is scheduled to orbit around Mars for two years, during which it will study everything related to the red planet's weather and atmosphere with the help of three advanced scientific instruments – an infrared spectroscope, an ultraviolet spectrophotometer, and a HD camera for digital exploration.