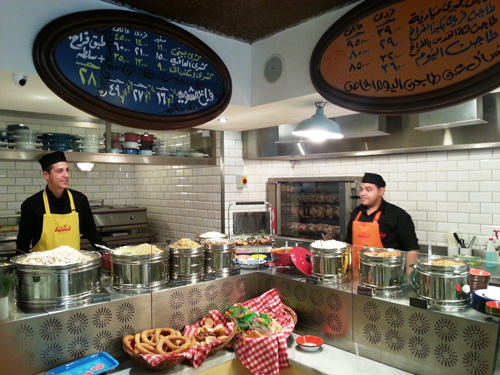 For one of Cairo's more cosmopolitan corners, Maadi's dining options have always seemed a bit banal. There's plenty of fast food, some decent coffee shops and a few well established favorites that are rarely compelled to innovate. There's a smattering of transplanted Zamalek chains, and a few places that are accessible only to a privileged membership. Innovation and a fresh approach to food are rarely on display. Maadi's leafy boulevards may be made for walking, but local dining enthusiasts are forced into their cars to seek out decent dining elsewhere in the city.
There is plenty of gastronomical innovation going on in Cairo. Just take a stroll for a few blocks on either side of 26th of July Street in Zamalek. Fresh, funky tastes are appearing everywhere, with the cupcake craze of 2010 replaced by this year's gourmet hamburger fad. Alas, this sense of culinary innovation has rarely spread as far as Maadi.
With the arrival of Cairo Kitchen, all this has changed.
Cairo Kitchen — itself a transplant from Zamalek — has arrived in the space formerly inhabited by the Green Mill, just behind the Cairo American College (CAC). The brainchild of the same team that runs La Bodega and started Cilantro, Cairo Kitchen is a fun, contemporary take on traditional Egyptian cuisine, serving up street favorites with a twist. Its koshary comes in several styles, including "wellbeing," with brown rice and pasta, and "eskandarany," with yellow lentils and a spicy kick.
The salads — served up on enamel plated platters that make you think of an elegant age long since passed — are a delight. Greens, beets, cauliflower, eggplant, lentils, beans, potatoes and more, all served up fresh and aromatic with herbs, as if assembled with love by a grandmother.
Staff serves up your choice of these creations on variously sized plates. It's a bit like one of those serve-yourself sushi joints; you pay based on the number of plates that end up on your table.
Cairo Kitchen also serves up rotisserie chicken, soups, tagines containing liver, shrimp or chicken and traditional Egyptian juices. There's a separate selection for breakfast.
The décor is fresh and light with bright, almost sassy colors. The ceiling is somehow slick, modern and utterly retro. Like its sister outlet in Zamalek, the interior is funky and colorful, with traditional wooden tables and chairs. Various jams, herbs and savories are offered for sale. The wait staff is friendly and attentive.
The most stinging complaint I've heard of Cairo Kitchen relates to the price: "Why would I spend LE11 on a plate of koshary, when I can get it downtown for five?" These curmudgeons, however, entirely miss the point. Just as grilled meats can be delicious high-brow (Kababgji) or local (Rifai), so too Egypt's traditional cuisine can — at times — benefit from a modest increase in elegance, while in no way diminishing the charm of the hearty original. The fact that this fresh approach is now found in Maadi, giving those of us compelled to spend part of our days there something sumptuous to look forward to, makes Cairo Kitchen's arrival all the more welcome.
This piece was originally published in Egypt Independent's weekly print edition.