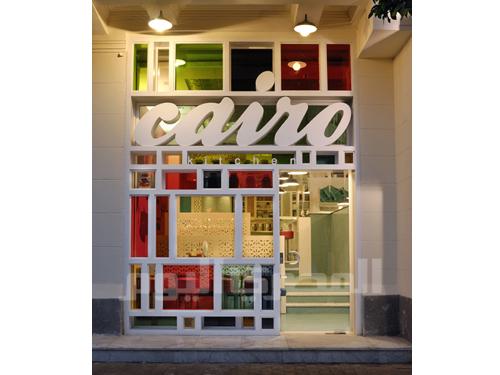 Cairo Kitchen opens its doors to the public (and to delivery) tomorrow, April 15th. The colorful, practical and delicious haven for koshary lovers and tormented Cairean vegetarians and vegans is part of a long overdue but growing trend of revamping local Egyptian home cuisine and street food with new ingredients, more hygienic kitchens and practical packaging.
Peeking out onto the 26th of July street from its entrance on El Aziz Osman Street in Zamalek, Cairo Kitchen is a trendy, colorful spot to pop in for a bite with friends or a snack on your own. The lights are bright, the tables flamboyant and the little bar stools at the front cater to the lone koshary fanatic, who can enjoy the colored view of 26th of July street through the restaurant's stained glass windows.
Expect an interactive eating experience at Cairo Kitchen – head to the koshary and salad bar with and start up a tray with your koshary base of choice – rice with vermicelli and lentils, macaroni, rice with yellow lentils, brown rice, vermicelli with grated carrots or cracked wheat (highly recommended) are lined in large bowls – help yourself and top the dish with tomato sauce, shrimp in tomato sauce, tomato sauce with meatballs or liver. The usual fixings are also available: chickpeas, fried onions and even more lentils.
Our tasting session included some great combinations – cracked wheat with tomato sauce, rice with shrimp in tomato sauce and vermicelli with tomato sauce were all great alternatives to your run of the mill (and perfectly made) koshary.
A little further on, a glass display case offers up salads that will change daily – the babghanoug is excellent and the stuffed peppers are delish but filling – it's easy to overestimate the size of your appetite here.
Dips with beets, eggplant, and yoghurt are available and you can pick up crunchy or soft bread for your dipping. Veggie-based salads like fattoush or salata baladi are also available.
The beverage bar is based around an enormous cylindrical column and each beverage is encased in a traditional Egyptian glass beverage decanter – a little spout allows you to serve yourself everything from just-sweet-enough karkadeh to rosewater with mint. Tea and coffee are also available.
Vegetarian reviewer Nadine was delighted with the restaurant's healthy and vegetarian friendly food.
"I loved the freek (cracked wheat) and brown rice and pasta based kohsari," she said. "Also the rose water drink was refreshing and the salad selection scrumptious!"
Her only criticism was the lack of healthy desserts – Cairo Kitchen offers up twists on the typical rice pudding and mahalabeya with a jar of different flavored malban for snacking.
Other reviewers raved about the vermicelli and liver combination as well as Cairo Kitchen's classic Egyptian koshary with its "home-made" flavors.
The restaurant's traditional koshary-themed touches to the restaurant's interior also garnered appreciation from clientele.
When necessary, the chefs serve up your choices from the kitchen and are full of ideas on how to mix combinations and advise what goes well with what.
A single portion of koshary containing any combination of available koshary elements (the cracked wheat, the shrimp, the liver, etc) is LE14. A "family portion" of four plates, or four portions, costs LE45.
And the restaurant will likely soon have free Wi-Fi and electricity, so one can really settle in for an afternoon of koshary binging.
Cairo Kitchen; Address: 118 El Aziz Osman Street, off 26th of July Street, Zamalek, Cairo; Tel.: +2 2735 4000; Hours: 10 am–1 am