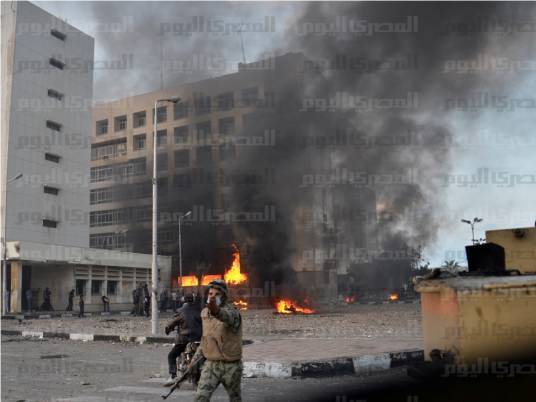 Members of the family of Karim Atout, 33, who died on Thursday after receiving gunshot to the head said that his body will be buried after afternoon prayer, MENA reported on Friday.
Atout has become at least the seventh victim of the clashes erupted in Port Said around the Security Directorate where casualties included three police officers.
On Friday, Yahia Moussa, a media spokesperson for the Health Ministry said the total number of injuries in the clashes between protestors and police in Cairo and Port Said had reached 71. He added that 62 injuries of these were reported in Port Said.
The recent wave of violence broke out Sunday after the Interior Ministry announced a decision to transfer defendants in the Port Said football violence case to outside the city, ahead of a final ruling set for Saturday.
Port Said has seen city-wide disobedience in the aftermath of the sentencing of 21 local residents to death over last year's deadly football riot that killed over 70 fans of the Cairo based Al-Ahly team.
There are doubts as to whether the death sentences handed down to the 21 defendants will be confirmed at a court hearing on Saturday. According to the Egyptian judicial system, the grand mufti should give a non-binding opinion regarding any death sentence. But on Thursday, Dar al-Ifta said that the new grand mufti, Shawky Ibrahim, did not have time to review the Port Said violence verdict adequately to reply to it with a clear conscience.