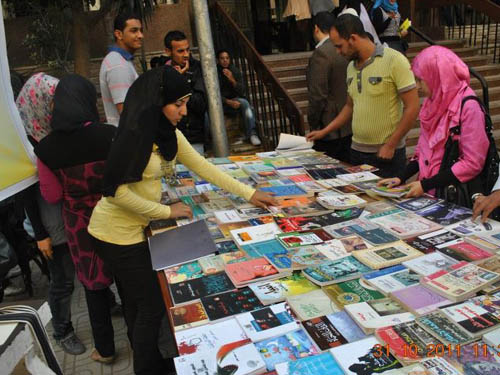 Writer Youssef Ziedan has responded to accusations of blasphemy leveled against him by the Islamic Research Complex, saying they could lead to his execution.
State Security Prosecution had summoned Ziedan, winner of the 2009 International Prize for Arabic Fiction, the Arabic Booker, on Tuesday based on a report prepared by the Islamic Research Complex focused on his book "Arabic theology and the origins of religious violence," published in 2009.
In statements cited by state-run news agency MENA, Ziedan said "it makes no sense to accuse me of religious defamation just because I said the three divine religions are messenger-borne, for they actually are."
"How has the book stirred sectarianism and what are the radical ideas it promoted?" he asked, questioned the accusations leveled against him.
He also expressed concern over potential results of the investigations particularly since the report issued by the Islamic Research Complex calls for the implementation of article 77 of the Penal Code. Ziedan has pointed out that it was under this article that a number of expatriate Copts who produced a film insulting Prophet Mohamed were given a sentence of execution.
"This means that I might be on the way to being executed," he said.
He said that the report calls for banning his book because it argues that the Quran is a historical document, which the Islamic Research Center sees as inaccurate.
Ziedan added that his book was only an attempt "to understand the reasons that lay behind religious violence and to curb it at the least cost."
He also said that his book calls for cooperation to combat "a phenomenon that transcends borders."
The Prosecution has given Ziedan one month to address the accusations made against him by the Islamic Research Complex.
In his book, Ziedan looks at main ideas in Islam, Christianity and Judaism regarding the relationship between the human being and the divine.
Ziedan specializes specializes in Arabic and Islamic studies, and his novel "Azazeel" for which he won the Arabic booker is set in the 5th century exploring the early days of Christianity.
Edited translation from MENA