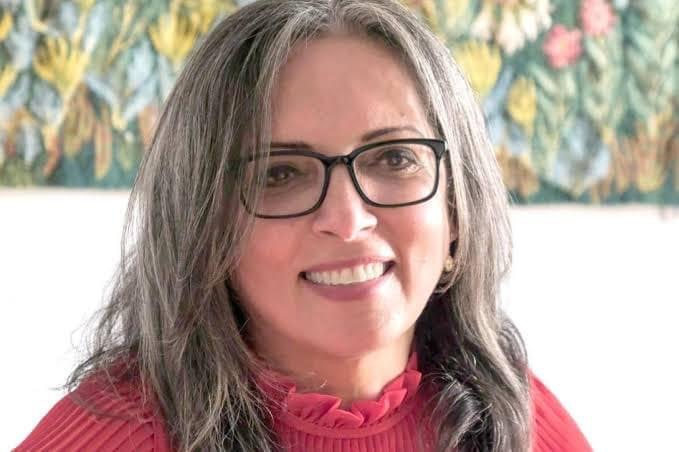 The Egyptian writer May al-Telmissany announced, a few days ago, that she had been awarded the French Order of Arts and Letters, with the rank of Knight.
"It's happy news today that I received the French Order of Arts and Letters with the rank of Knight, and I received a message from the French Minister of Culture through the French ambassador in Cairo a few minutes ago," Telmissany wrote on Facebook.
She expressed her happiness with the honor, pointing out that her father, Abdelkader al-Telmissany, went through an arduous journey to study cinema in France at the Sorbonne from 1948 until 1953, and encouraged her to study French literature at the university.
"I remembered how much I owed him for everything beautiful in my life. I remembered my first steps in the nursery of the Notre Dame des Potter School in Heliopolis when I was four years old, and the Little Red Riding Hood book in French that my father gave me at the beginning of my journey into reading and writing."
"I also remembered Hoda Wasfy, Amina Rashid, and Marcel Proust and my translation of the Arab cinema book from French into Arabic. Mona Latif Ghattas's translation of my novel "Dunia Zad" from Arabic into French, and my trips to France to meet the friend publisher Michel Pervinov and Farouk Mardam Bey at the Actes Sud house," she added.
Telmissany was born in Cairo in 1965, and obtained a BA in French literature from Ain Shams University in 1987, and a master's degree in 1995 on the literature of the French writer Marcel Proust. She obtained a doctorate degree in comparative literature from the University of Montreal, Canada, about the slum areas depicted in Egyptian cinema.
Her doctorate was later published in a book issued by the National Center for Translation.
She worked as a university professor and lecturer in a number of Canadian universities. In addition to her academic work, she published a number of novels and short story collections, the most important of which are: "Dunyazad (1997), "Heliopolis" (2001), and "A Capella" (2012). The latter was adopted into a movie called "Tofahet Hawa" (Eve's Apple) in 2016.
She won the Arte Mare Award for the best first work in the Mediterranean in 2001, from the Bastia Festival in southern France, for the French translation of "Dnyazad", and the State Appreciation Award for Biographical Literature in 2002 from the Egyptian Ministry of Culture for the same novel.