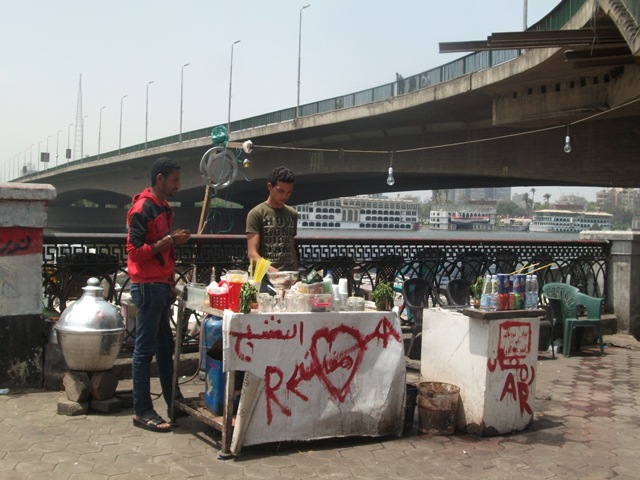 With the ruins of the burnt National Democratic Party headquarters in the background, Sayed Atef skillfully prepares cold drinks for a handful of people on the Nile Corniche.
Competing with the loud music coming from his speakers, Atef told Egypt Independent that he started his business around March last year.
"The traffic in this area near Tahrir was exceptionally dense at that time, so I thought about selling some drinks since most families that came to visit the square enjoyed a nice drink here," he said.
After a while, his little enterprise expanded and he invested in a few chairs and tables and started preparing hot snacks, installing a big oven against the corniche guardrail.
Vendors taking advantage of the lawlessness during and after the revolution invaded the Nile Corniche along the river in Cairo and in many governorates, setting up temporary food stalls and a myriad of kiosks that turned the waterfront roads into open-air markets.
Last month, Egypt's state information service issued a press release announcing that Prime Minister Kamal al-Ganzouri had decided to stop construction of any new facility on the Nile or waterways, issuing instructions to remove encroachments of unlicensed construction along the Nile.
Irrigation and Water Resources Minister Hesham Mohamed Qandil said his ministry started executing an immediate follow-up campaign to remove violators, which succeeded, with the cooperation of the police, in removing 180 of the total 237 Nile encroachments last month.
"The government is moving forward with a campaign to remove encroachments using scientific methods, including satellite images, aerial photos and reports from technical committees," Qandil said, promising that more measures would be taken.
As a solution to this growing dilemma, Ganzouri's government was reported to be studying a project to establish a new corniche to protect the waterway from encroachments and reduce traffic congestion on some of the river roadways.
Mohamed Shebal, head of the Nile development and protection sector — a body governed by the Irrigation and Water Resources Ministry — told Egypt Independent that the ministry is working on two parallel projects: one to remove encroachments and another to set up a new corniche.
"At the same time, we are starting a project to remove encroachments located on the 1,140-km strip from Aswan to Rashid, at the cost of LE15 million," Shebal said.
Although Shebal noted the severe lack of information regarding this project, he added that reports now show the government is seeking a national consensus to bring all the political currents on board for this project to avoid the controversy the government of Mubarak-era Prime Minister Ahmed Nazif created.
The expansion of the Nile Corniche was initially proposed under Hosni Mubarak and Ahmed Nazif in 2005. Although it was meant to expand several sections of the road to alleviate traffic congestion while promoting tourism in the area, the project stopped after many environmentalists expressed deep concerns regarding the impacts of such a project.
Some initial steps in renewing the Nile Corniche were taken last November when a Qatari real estate company, Diar, signed a US$464.3 million contract to develop a complex of two massive towers with a range of residential and hotel accommodations, extending parts of Cairo's corniche.
"This agreement is a testimony to our commitment to supporting Egypt's real estate," Qatari Diar CEO Mohamed bin Ali al-Hedfa said.
He said it will create an exciting, new urban environment along the Nile Corniche.
However, some of the Nile sailors who own small boats mainly used for tourism objected to the creation of a new corniche, which might turn it into an expensive commercial area.
"It is impossible to imagine Egypt without the Nile. As Herodotus, Greek historian of the fifth century BC, once said, 'Egypt is the gift of the Nile,'" said Abdel Gaffar Mohamed while leading few passengers to his felucca.
But he described the encroachment situation as less than ideal.
"People come to hang out along the Nile Corniche because it is affordable for everyone, but unfortunately it has now been colonized by irresponsible vendors who drive lots of tourists away," he said.
Land encroachments have also been a problem in several areas. In a 2011 report, the Central Administration for Protecting Arable Lands said it had identified more than 100,000 cases of encroachment on arable lands in the Nile Valley and Delta following the outbreak of the revolution.
The organization reported 108,316 incidents from 25 January until 31 March, with Beheira Governorate topping the list with 23,000 violations and Monufiya, Gharbiya, Daqahlia and Sharqiya governorates each having more than 10,000.
Port Said, Suez, Cairo, and New Valley governorates did not have any identified encroachments.
The Agriculture Ministry attributed the outbreak of encroachments to the security situation in Egypt and the absence of police during the revolution, saying that the situation will soon improve.
Engineer Wahman Abul Nasr, undersecretary of the Agriculture Ministry, explained to Egypt Independent that the problem in Egypt is made particularly acute by the tendency for urban encroachment to take place on the most fertile agricultural lands.
"It is a chronic problem, not only along the Nile, but also Egyptian lands have been targeted by violators who informally built settlements on state-owned lands. Land invasion, land squatting and construction without permits existed before the revolution also, and past governments had been unwilling to grant them a post-facto legalization to get basic services, such as sewage and water," Abul Nasr said.
After the revolution, public concern over the management of state property has risen following scandals of mismanagement and corruption, which caused many doubts about the capacity of the state to manage such huge properties.
During his visit to some sites that had been successfully cleared of encroachment, Giza Governor Ali Abdel Rahman warned that any destruction of state-owned property will not be tolerated, adding that very strict measures will be taken against all violators.
Abdel Rahman said the government is currently examining the possibility of imposing harsher penalties on those who violate the law.