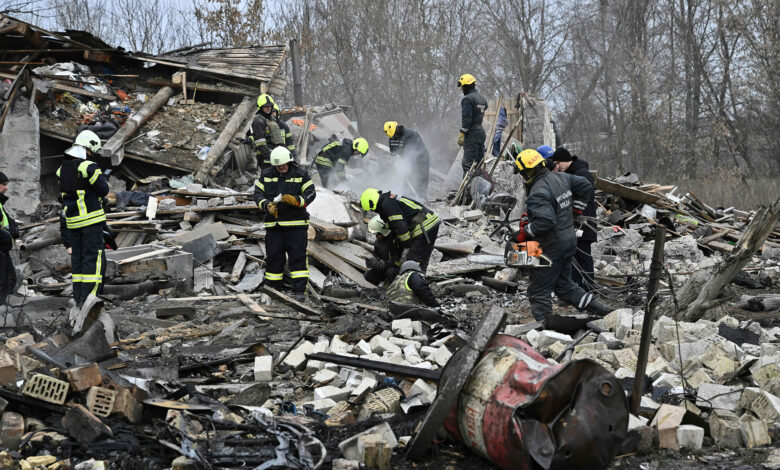 Russia's Defense Ministry has claimed that a wave of missile attacks against Ukraine on Thursday, believed to be one of the biggest barrages yet in the war, "neutralized'" all their assigned targets.
In its daily summary of operations, the ministry said that Russia's armed forces "launched a massive attack, using high-precision long-range air- and sea-based armament, at the military control framework, and the power facilities that ensured operating of Ukrainian defence industry."
It added that the attacks had disrupted rail traffic, blocking the delivery of "foreign-manufactured armaments" to Ukraine's armed forces.
"All the assigned targets have been neutralised. The attack has resulted in stopping the production and maintenance of military hardware and ordnance, as well as in terminating the redeployment of reserve forces of the Armed Forces of Ukraine from western regions of Ukraine," the defense ministry said in a statement.
But Ukraine delivered a dramatically different assessment of the damage wrought by Thursday's onslaught. The Ukrainian military on Thursday said the vast majority of missiles launched by Russia were intercepted by its air and defense forces, and that power capacity was restored in the hours after the attacks. Three people were killed in the attacks, according to Ukrainian officials.
Detailing the ongoing battle in eastern Ukraine, Russia's Defense Ministry also claimed that its forces had inflicted heavy losses on Ukrainian troops in the Kharkiv and Donetsk regions, killing more than 200 Ukrainian troops. It said Russian forces had successfully targeted US-made equipment and brought down one MiG-29 fighter aircraft over Donetsk, as well as a number of drones.
Ukrainian officials have said that both Ukrainian and Russian forces are suffering significant losses in Donetsk. CNN could not confirm Russia's claims.
But in spite of Russia's purported victories on the battlefield, the ministry did not claim any territorial advances against Ukrainian forces, adding credibility to reports that the two sides are locked in a stalemate.