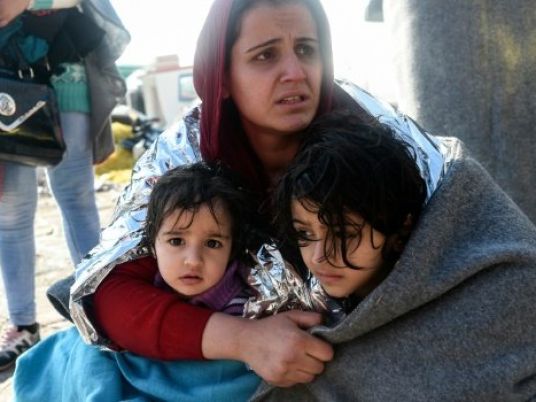 Seven-month-old Adam's nights are restless. The din and chatter of 600 other asylum seekers sharing a "camp" in the north of the Netherlands keeps this youngest resident awake, and his parents anxious.
"Home" — their fifth in three months — is a flimsy plywood cubicle they occupy with two other Iraqi families in a cavernous exhibition center-turned-shelter.
But there is no door, no ceiling — and no chance for more sleep when the huge white lights go on each day at 7:00 am.
"This isn't life. How can I explain it?" says Adam's 27-year-old father Ahmad. "It's like a bird in a cage. It eats and drinks but it's not happy."
All is a far cry from the vision that kept Ahmad and his hazel-eyed wife Alia, 26, going as they trod, baby in sling, the migrant route to Europe last September, with a team of AFP journalists in tow.
Three months on, they feel trapped in a labyrinth of sluggish, soulless administrative steps — though the joy of watching Adam grow out of harm's way encourages their patience.
"Our journey is not over," says Ahmad, sitting on the edge of his unmade bed.
The boy can almost stand, and he can now say "Mama, Baba". His playfulness is a welcome break both for his parents and some fellow asylum seekers, who like Ahmad and Alia left all behind.
Feeling unwanted
The young Iraqi owned an upscale garment shop in Baghdad. Now, like the others in the shelter, he has to wear a blue plastic bracelet when he goes out to identify him as a "camp" resident.
"We still don't know what fate has in store for us … whether or not we will have a residence permit," he says.
Ahmad understands the Netherlands is "crowded" with a record number of asylum requests, but he can't shake the fear that Dutch authorities may one day send them back to Iraq.
He also worries that attitudes towards refugees have changed since the deadly Paris attacks.
"People used to say hello to us on the street, they used to welcome us. Now they don't any more," he says.
His family's situation mirrors that of hundreds of thousands of others, uncomfortably accommodated by overwhelmed European authorities who have commandeered sports halls and other civic buildings.
Nearly a million people fleeing war and misery reached Europe's shores this year.
When Ahmad and Alia survived a bomb attack in Baghdad in 2014, they too decided to risk all and crossed the Aegean Sea this summer.
Through seven countries in as many days at the peak of the migrant crisis, they slept rough in the Balkans, dodged arrest and handed smugglers their life savings — 9,000 euros (US$10,000) — to have a chance at life in Europe.
Their goal was the Netherlands, where they have family in Utrecht, a city whose picturesque setting is far from the makeshift shelters they've passed through before they were assigned to Leeuwarden, a town of some 100,000 residents where they arrived on October 16.
It took authorities five weeks to register the couple's asylum request.
"I felt that the Netherlands didn't want us, like it was telling us to leave," said Ahmad.
With 54,000 requests registered in 2015 by mid-November, the authorities concede they are overwhelmed.
"We have a backlog, and that sometimes causes friction," says Alet Bowmeester, spokeswoman for the Central Agency for the Reception of Asylum Seekers.
Breaking the routine
With little to do but wait, the couple look for ways to lift their spirits.
"Every morning, my friends and I get together in a room that we have assigned as the make-up room. We go there to get dressed, put on make up and do our hair," says Alia, who still bears scars on her face from the 2014 bombing.
Once a week the family goes to Mouni, a kebab restaurant in the heart of Leeuwarden that is popular among refugees.
"It isn't the same as the food in Iraq but it's nice to eat something that reminds us of home," says Alia.
They then join a group of Syrians and Iraqis on a day trip to the zoo — a rare treat that is sponsored by a local church — where the main attraction is a herd of seals in the middle of a pond.
Zookeepers take visitors out on a wooden boat to watch at feeding time, but even a fun outing can revive trauma.
The children love it but many older visitors are terrified in the small boat, paralyzed with fear at the memory of the perilous sea crossing to Greece's shores.
Alia has her own demons that rear up every time she hears a loud noise and remembers the bombing she survived. Their Balkan odyssey was also "a nightmare" but one her mind has mostly erased.
Asked whether she is happier in the Netherlands, she says: "Of course this is better, it's much better. There's no sea, there's no running, no fear, no one will come hurt or steal from us."
Yet like Ahmad, she too fears they might not be cleared to stay there. "I think about it. I think that we might not succeed, that we might be sent back. So this frightens me very much."
Staying positive
Keen to stay positive, Ahmad joins a group of eight Syrians and Eritreans learning Dutch with a volunteer teacher.
"In five years time… I hope I will become a Dutch citizen, so that I can travel all over the world," he says.
"I will be working and enrolled in a (language) school. We will have a house and a car. Our lives will be good."
Just two days after AFP's visit to the Netherlands, Ahmad, Alia and Adam were moved to another shelter and given their own room to stay in.
"You gave us good luck," Ahmad said via the Viber phone app. "The new place isn't great, but it's much better."