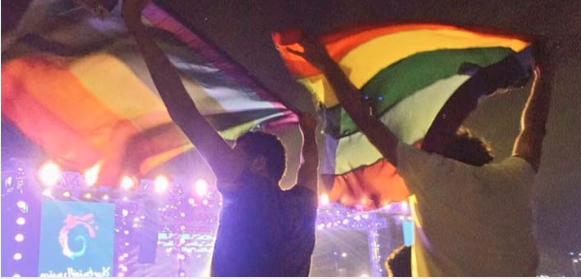 Security authorities have arrested seven fans of the Lebanese alternative band Mashrou' Leila for encouraging homosexuality in a concert held at Cairo Festival City in the Fifth Settlement on Friday September 22, the state-run Akhbar El-Yom website reported.
The Music Syndicate banned Mashrou' Leila from performing in Egypt following Friday's Music Park concert where a couple of rainbow flags were seen flying during the band's performance in support of the LGBT community in Egypt, said Deputy of the Syndicate of Musical Professions Reda Ragab in an interview with TV host Mahmoud Abdel Halim on Al Assema channel on Sunday evening.
The security authorities investigated the incident and identified the seven fans through surveillance cameras before arresting them, Akhbar El-Yom quoted a security source as saying. The suspects were referred to prosecutors for interrogation, the source added.
The Music Syndicate had been notified of ban the band's performance in Egypt, the source mentioned.
Homosexuality is not illegal in Egypt. But in the late 1990s, the police stepped up the use of two old laws – a 1950 anti-prostitution law and a 1961 law against "debauchery" – to arrest and charge the practicing LGBT community. The highest-profile action was a raid in Cairo in 2001 on the Queen Boat, a gay-friendly club on the Nile, where 52 men were arrested.