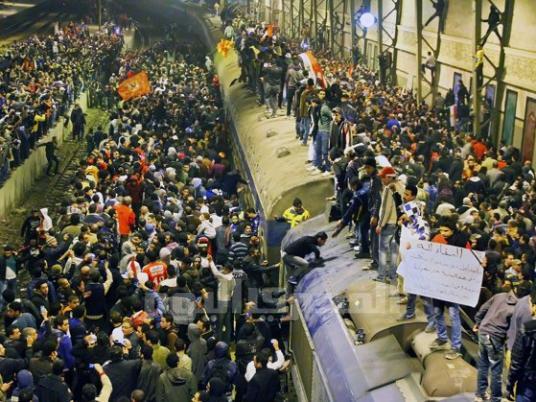 Seventeen strikes and sit-ins protesting water and power cuts have disrupted the railways in Upper and Lower Egypt over the past 24 hours. During this period 82 trains were delayed by more than three hours, with train service in Upper Egypt particularly hard hit.
"The sit-ins meant that there weren't enough trains to handle the number of passengers going from Cairo to Upper Egypt because the protesters have halted the trains coming from the Upper Egypt governorates for more than three hours, which in turn affected the order operation of trains leaving Ramses Station in Cairo," said on Thursday Hany Hegab, head of the Egyptian National Railways authority.
"On Thursday alone railways in Upper Egypt have witnessed 10 sit-ins and strikes, causing the disruption of at least 60 trains. There's an average of a three hour delay for each train," Hegab added.
"Meanwhile, trains in Lower Egypt were disrupted by seven sit-ins on Thursday, disrupting service for 22 trains with an average delay of two and a half hours," the official continued.
"The rate of increase of railway sit-ins is a very dangerous sign, threatening the operation of a national railway service that serves 1.2 million passengers."
Hegab called for solutions to this ongoing problem and for laws against blocking trains to be enforced against the protesters.
The protests and strikes that have blocked railways over the last 18 months have cost the state more than LE726 million, Hegab told Al-Masry Al-Youm in early July. Close to 5,000 trains have been halted over the past year and a half, affecting 1.8 million passengers, he added.
Since the fall of former President Hosni Mubarak, protesters have blocked the railways as a means of forcing the authorities to comply with their demands, Hegab claimed, adding that the nation's railroads have seen more than 870 protests and strikes since 25 January 2011. Reasons range from protesting against gas shortages to government appointments. The demonstrations have continued into 2012 as railway workers have held sit-ins on the tracks to protest low wages and poor working conditions.
Edited translation from Al-Masry Al-Youm