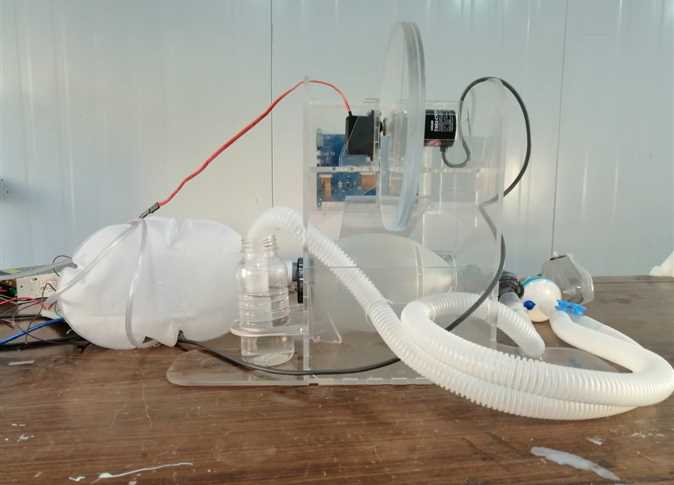 Zewail City of Science and Technology said on Friday that its professors and researchers are working to play an active role in reducing the effects of the coronavirus (COVID-19) by taking various approaches, including health research and education.
A group of Zewail City's projects have already been accomplished, while other research projects are currently under evaluation. Current projects that have already borne fruit include ventilators, respirator masks, and an artificial intelligence system for identifying coronavirus cases.
Prototypes for ventilators
There are three prototypes of low-cost ventilators designed using different technologies:
This device is designed to work in the pre-intensive care stage, in which a medical specialist usually uses a manual respiration balloon. The device works automatically and thus gives medical workers the time to provide other critical first aid. The patient remains connected to the device until being transferred to the intensive care unit.
The benefit of this device is clear, especially in case of long waiting periods for entering intensive care units. In such cases, it acts as breathing aide and plays a major role in alleviating physical and psychological suffering, as well as in relieving pressure on medical teams.
A prototype has already been designed and manufactured and a more developed model is in the works. The second model is expected to be completed on April 8, 2020, and aims for a cost of LE2,000 to LE3,000 per unit.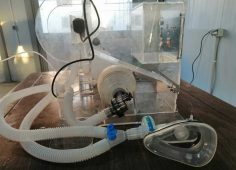 The COVID-19 pandemic has caused a significant increase in the number of cases pneumonia and fatal respiratory diseases. The total number of ventilation devices available in the Egyptian market is very limited, and no ventilation devices are currently being imported.
The Venta-Max Ventilator is easily assembled using resources and components available in the Egyptian market at a of about LE10,000. It is designed to serve the most severe coronavirus cases and can be connected to solar panels for use in places with limited resources such as field hospitals and remote areas.
The first version of the Venta-Max Ventilator has been assembled and tested, and the sensors are being calibrated. Next steps include completing the user interface and finishing the design as a printed electronic circuit to reduce the size. The expected completion date is April 5, 2020.
A research team in Zewail City is developing a ventilator that can be used for pneumonia patients who have not reached a critical condition and therefore do not need the expensive equipment found in intensive care units.
Such devices are not available in Egypt, as they cost hundreds of thousands of pounds. Zewail City expects the cost of the device they are developing to be roughly one percent of the price of available devices.
This project is being undertaken in cooperation with the University of Illinois at Urbana-Champaign in the United States and the Egyptian industrial company al-Araby Group.
The goal of the project is to produce a mechanical respirator that was designed at the University of Illinois, to be manufactured by the al-Araby Group using local materials. This requires modifying the original design to conform to the capabilities of local manufacturing and available local components.
The device is expected to cost 70 percent less than imported machines, and to operate to the same specifications. The research team expects to be able to produce ten units by April 7, 2020.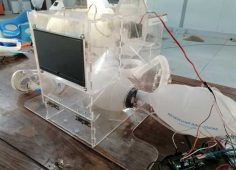 A respirator mask with a reusable exhalation valve
Because of the ease with which the coronavirus spreads through the air, it is necessary to provide reusable masks that protect all medical workers from the possibility of infection, especially since most masks are designed for single-use.
Zewail City researchers initially designed a respirator mask that is equipped with a reusable exhalation valve and made of easily-sterilized medical silicone rubber treated with anti-viral agents. This design also include changeable filters capable of stopping viral activity.
Zewail City is now in the process of finding the necessary funding to support this project and to reach significant production amounts within a month.
Artificial Intelligence System for identification of coronavirus cases
One of the problems the medical sector in Egypt and many developing countries face is the lack of a cheap and fast way to identify coronavirus infections.
Studies have confirmed that the polymerase chain reaction (PCR) test has a high error rate and requires trained technicians to reduce errors resulting during sampling, transfer and preservation, to maintain correct operation of detection devices, and to ensure the safety of the liquids and chemicals used.
Studies have also shown that the test was unable to detect some cases of infection and recommended the use of clinical tests such as X-ray and CT scans in conjunction with the corona test.
The Zewail City project aims to provide a testing system that works with artificial intelligence and deep learning to identify cases of coronavirus from X-ray and CT Scan images, to help specialists in the Egyptian medical sector produce an accurate diagnosis.
The research team collected several X-ray images and developed a preliminary system to identify cases of coronavirus with accuracy. Zewail City submitted a research proposal to Egypt's Academy of Scientific Research and Technology to further develop this system by training it on a large base of X-ray images found in the approved databases, as well as images from Egyptian coronavirus patients.
After evaluating the system, it will be provided free of charge to the medical sector in Egypt through the research center in Zewail City.
And after adding distinct analytical diagnostic capabilities, the system, which is expected to be completed within a few months, can be marketed globally to help contribute to a boom in the knowledge economy in Egypt.
Edited translation from Al-Masry Al-Youm