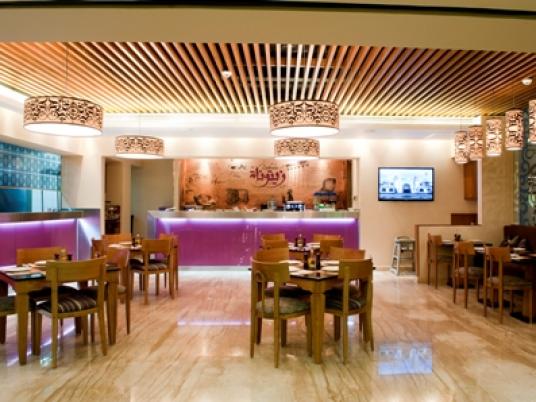 The newly-opened Zeitouna Lebanese Bistro adds a unique twist to a wide selection of Lebanese delicacies. The bistro, located in Nile Towers, opened its doors last week.
Zeitouna is small and cozy, the decoration is modern, and the purple and beige interior gives the place a joyous feel. The restaurant is well lit and features an open kitchen, allowing you to see your food being cooked. Until recently, this meant diners left the restaurant smelling like a grill. However, it has since upped the ventilation, and the grill smell now seems to stay in the kitchen.
On each table, you will find a jar of feta cheese mixed with olive oil, walnuts, olives, cherry tomatoes and basil to munch on while you wait for your order, as well as a plate of olives marinated in basil, thyme and rosemary. The feta cheese is a delicious treat, and you could easily fill up by snacking on it while waiting for the arrival of your main course.
Each appetizer features a distinctly Lebanese blend of spices and flavors. The baba ghanoush is something else — chunks of eggplant add texture while pieces of dried figs serve add an element of sweetness to the dish. The mixture of sweet and sour is unexpected but extremely rewarding. The oriental sausages are mild and pleasant, and, unlike most variations of this dish, neither too spicy nor salty. The hummus is adequately done, and the fattoush is especially refreshing — Zeitouna enhances the traditional Lebanese salad with the addition of pomegranate seeds.
For the main course, try the light and tasty kofta. The meat is tender and spicy, and while the portion is relatively small, it comes with a side of potatoes and grilled vegetables.
Zeitouna is a fresh take on Lebanese food. The restaurant also offers traditional Lebanese sandwiches and desserts, in addition to drinks.