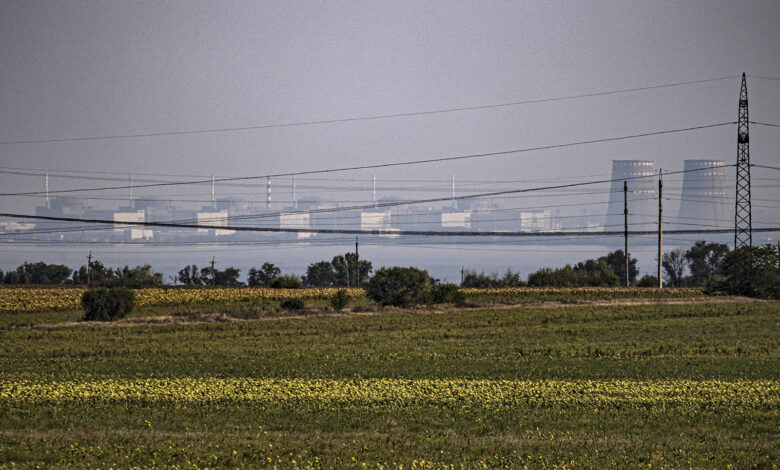 The fifth reactor at the Zaporizhzhia nuclear power plant was shut down and its emergency protection system activated on Thursday due to shelling, Ukraine's nuclear operator Energoatom said in a statement.
The shutdown comes as a team of international experts were traveling to the Russian-occupied plant in southeastern Ukraine for a planned inspection amid fighting in the area that has sparked fears of a nuclear accident.
The plant, which was disconnected from the country's power grid last Thursday, has six reactors, only two of which have been functioning — number five and number six.
"Today, September 1, 2022, at 4:57 a.m., as a result of another mortar shelling by the Russian occupying forces at the site of the Zaporizhzhia NPP, the emergency protection was activated and the operating 5th power unit was shut down," the Energoatom statement said.
"In addition, the backup power supply line 330 kV for own needs of the ZNPP was damaged. In the transition mode, the non-working power unit No. 2 was de-energized with the start-up of diesel generators."
Energoatom said the remaining reactor "continues to work in the energy system of Ukraine and at the same time feeds the ZNPP's own needs."
Some context: Nuclear plants use a number of auxiliary safety systems, such as diesel generators and external grid connections, to keep reactors cool. Zaporizhzhia also uses a spray pond, a reservoir in which hot water from inside the plant is cooled. If those systems failed, then the nuclear reactor would heat up swiftly, triggering a nuclear meltdown.
Ukraine has accused Russian troops of using the plant as a shield, risking a potential disaster at the plant. The Kremlin has in turn repeatedly accused Ukrainian forces of shelling the plant.