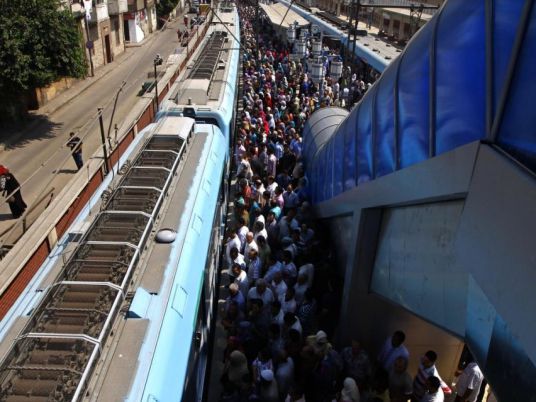 Traffic police started diverting traffic in Zamalek to alternative routes on Tuesday after closing a number of streets in preparation for the construction of a third metro line.
Traffic signs were installed on both Ismail Mohamed and Brazil street stating their closure.
Police opened the Swiss Institute street for two directions as an alternative to the two closed roads.
The French-Egyptian consortium, which will construct the third line, began site inspection on Sunday in preparation for the transfer of equipment, to start work in few days.
The new metro line will start from Ataba station and end at Kit Kat station.
The third line will also service Zamalek, with a 350-meter-long station on Mohamed Mazhar street, an official source with the French-Egyptian company implementing the new line said.
The company will construct temporary offices near the Spanish Embassy, through which it will run and oversee the project, the source said.
Local authorities will take 9 months to divert the infrastructure (underground water, natural gas, electricity) of the area to other routes, after which the actual construction of the project should start, according to the source.
Zamalek residents have objected to the establishment of a metro station in the district, fearing it will affect the foundations of old buildings in the area.
The French-Egyptian company conducted studies before approving the project to ensure it would not affect buildings, the source said.
A lawsuit was filed against the chairman of the National Authority for Tunnels, aiming to halt the implementation of the construction phase for the metro line. Details of the case were given by one of the involved residents, who said, "the road they chose for the station is very small and is a one-way street."
"The metro station will bring beggars to the area and will undermine security and stability," said Ahmed Abdel Salam, a resident of Ismail Mohamed Street.
After nearly three years of litigation and arguments with representatives of the state, the campaigners are frustrated and hopeless.
"We hang on to no great hope regarding the judicial judgment, but we have to try," says local resident Maha al-Tarabeshi.  "We have published more than one appeal to the presidency on the pages of newspapers. After the first appeal, there was a good response, then, later we just didn't hear anything and we don't know what happened," Tarabeshi explained.
Edited translation from Al-Masry Al-Youm