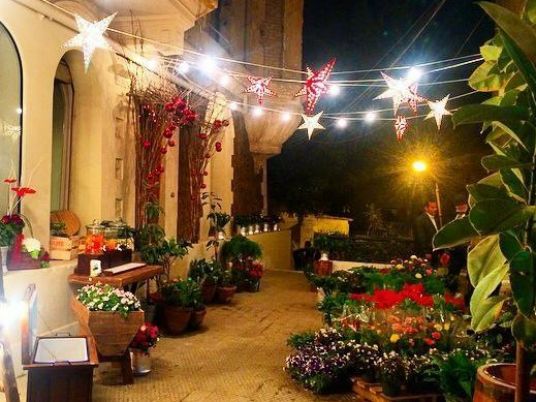 Tucked away in a corner on a quiet street, Zamalek Market is the latest arrival to the cozy neighborhood bringing on a healthy lifestyle tweak with plenty to offer.
The initial impression you gain when visiting the farmers' and artisans' market is stepping into a joyous, mini-retreat to nature escaping the hustle and bustle of everyday life.
A selection of different kinds of flowers placed at the entrance.
A wide assortment of flowers and plants are beautifully scattered all over the front entrance space where Dina Fahmy, the mastermind behind the idea of Zamalek Market, welcomes guests with a wide grin brimming on her face.
"The idea is about promoting healthy living and well-being that help us get closer to nature and nutritional regimen," Fahmy said.
"We are in dire need to put a stronger emphasis on supporting a healthy lifestyle approach in Egypt through holding more specialized healthy-living events. "
If you a plant lover, this is your place. Don't miss the high-quality outdoor as well as indoor plant and flower selection imported from Europe. Gerbera, Gardenia, Begonia, cyclamen and others more are among the displays offered.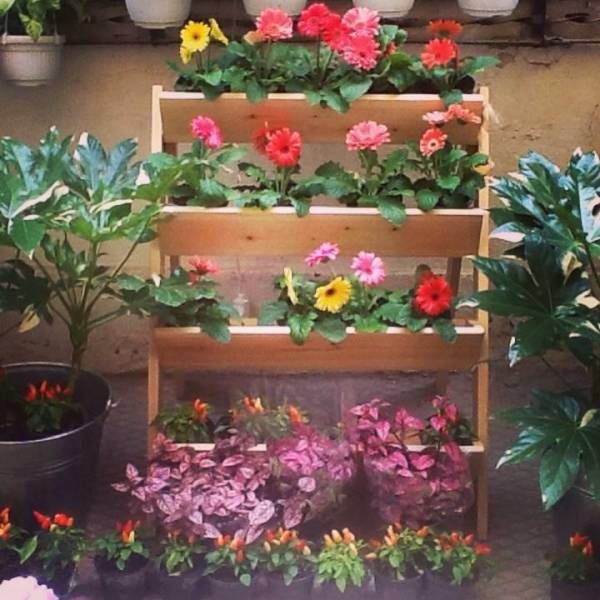 Mutli-tiered flower stand for outdoor display.
Some are placed in small pots which could add a complementary decorative style at home or workplace lending a touch of beauty. Others are arranged in multi-tiered flower stands and outdoor, large containers for balcony or garden.
Bubblzz is another stand worth stopping by during your visit. And as if we need more temptations to crave sweets; Bubblzz designs sensuous pleasure, skin care products to pamper yourself with.
Soaps, bath bomb, lotion bars are shaped like cupcakes, cheese cakes and donut loops. Their captivating scents can hardly keep you from eating them.
Soaps shaped like cupcakes.
Bublzz are specialized in ingeniously designed organic bath and body care products. They are all made of blend of natural oils and free from any preservatives.
Wooden handicraft home accessories are among the exhibits that make a statement in the market. From tables, picture frames, and trays to tea boxes, beverage coasters and napkin holders, all are crafted with fine attention to details. They are not only attractive, but also useful and durable.
Wooden, handmade table and chairs.
All artwork is made by the Health Improvement Association, a non-governmental organization aiming to open the door for the disadvantaged to bring out their inner artist and promote locally-made craftwork in the market.
One of the exhibitors—Desert Lake Farms—provides farm-to-table veggies, fruits, eggs and herbs.
According to the vendor, all crops are grown naturally without employing chemicals fertilizers or pesticides. Nutrient-rich compost are integrated into soil to ensure having healthy and tasty products.
The organic coconut oil is one of the most popular products at the stand. Besides its countless health benefits, including cholesterol level maintenance and proper digestion, it is an amazing natural way to nurture hair and skin.
Discover the real power of positivity through a collection of handmade jewelry designed by vibrational energy artist Ragia Momtaz.
Exquisite pieces of crystals are carved into a range of various shapes including bracelets and necklaces. According to Momtaz, healing stones are used to spread positive energy, and relieve stress or anxiety.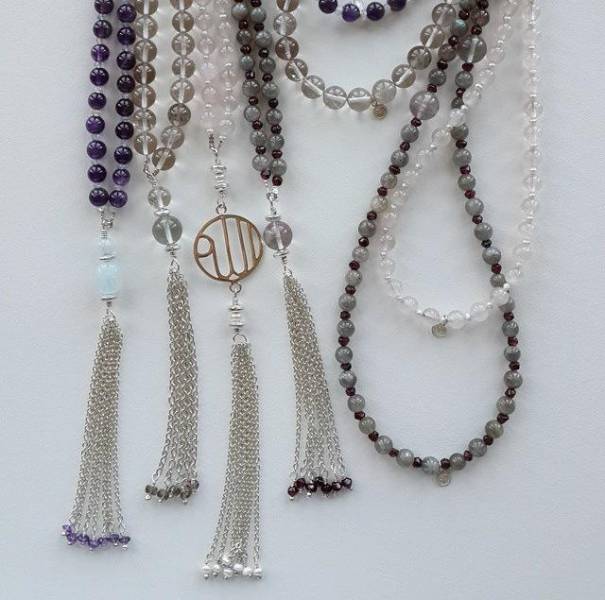 Bracelets and necklaces made of natural stones by artist Ragia Momtaz
Melt your palate with a selection of finger food inspired by Lebanese cuisine. 'Matba5 Immy' offers both savory and sweet authentic Lebanese food, served as little mini bites with finger-licking taste. All are freshly homemade that can also be delivered to your doorstep wrapped up in a neat, little package.
Fresh, homemade Lebanese finger food by Matba5 Immy.
The participating vendors change frequently, so make sure to stop by occasionally and see the new, interesting products that have popped up.
Zamalek Market opens its door Saturdays and Sundays from 10 am till 5 pm.
It is located at 4, El Sheikh El Marsafy street, Zamalek (next to Beano's cafe and behind the Yamany Building).
Visit the market's Facebook page.