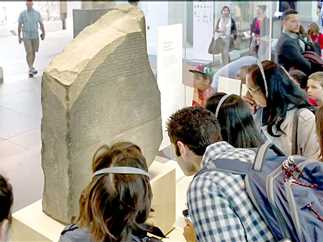 Renowned Egyptian archaeologist Zahi Hawass expressed his support for Egyptian-British barrister Gihan al-Hosseini attempts to help return Egyptian antiquities from the British Museum.
Hawass explained that British law prevents the return of antiquities, thus the document submitted by Hosseini to the British Parliament reinforces repatriation efforts, saying: "If the Egyptians and Arabs who were naturalized in Britain signed the document, the parliament would start looking into the matter."
He explained a continuation of the popular campaign to retrieve Egyptian antiquities, foremost of which is the Rosetta Stone from the British Museum, "We have redirected the campaign and launched it to gain legal effect in Britain."
Hosseini submitted a legal petition to the British Parliament, requesting it to discuss amending the British Museum Act on the recovery of antiquities in Britain, in accordance with the steps followed in Parliament, Hawass said.
He indicated that the petition was accepted by Parliament on the sixth of February, and it was published on his official website to collect signatures.
The Parliament does not discuss any request to amend a law unless it is submitted by one of its members, or through a petition bearing the signature of 100,000 citizens who hold British citizenship or permanent residence, Hawass added.
He said that the only way to recover these antiquities is to amend the British law on antiquities recovery.
Hawass added that that current law "Prevents the British Museum administration from responding to any request from other countries to recover antiquities that were taken unlawfully or by illegal means."
"We appeal and call on all Egyptian and Arab citizens who hold British citizenship or permanent residence in Britain to sign the petition, and this is its link," he said.