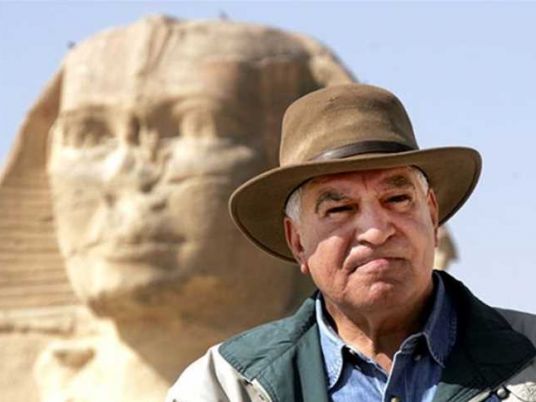 Egyptologist Zahi Hawass visited Italy's Noto on Saturday, giving a lecture on Egyptian antiquities and revealing details about recent excavations in Italy, the Sada al-Balad news outlet reported.
Noto's mayor warmly received Hawass, and invited him to unveil the city's remarkable secrets.
Hawass, alongside the mayor and other officials, then visited the sites unearthed by the University of Catania's archeological mission, which the Egyptologist pointed out was significant in uncovering the city's history. He stated that these digs will reveal details about the relationships and religious beliefs of those who lived in the ancient city, according to Sada al-Balad.
Amongst the mission's significant finding include the ruins of a 1,000-year-old church.
During his visit, Hawass stated that he will lead excavations in the city, set to start by the end of this year. The discoveries will be aired in a televised seminar in the presence of commentator Roberto Jacob, Sada al-Balad reported.
The city of Noto is known for having been devastated by an intense earthquake that hit Sicily in 1963, burying it under huge landslides. The ancient city lies southeast of Sicily, and featured Roman and later Arab colonies.
Since 1998, Hawass has received numerous awards such as the Golden Plate Award from the American Academy of Achievement, membership induction into the Russian Academy of Natural Sciences, and more. He received international recognition including the title "Scholar of the Year" by the Association of Egyptian-American Scholars in 2000, according to his official profile on Facebook.
Hawass was also listed by National Geographic as an Explorer in Residence. Furthermore, he was included among the world's Top 100 Most Influential People for the year 2005 by TIME Magazine, his profile read.
Notably, in 2008, the Egyptologist was granted the prestigious post of Goodwill Ambassador to Japan by the Egyptian and Japanese Ministries of Foreign Affairs, according to his verified account.
Photo credit: Zahi Hawass's Facebook page