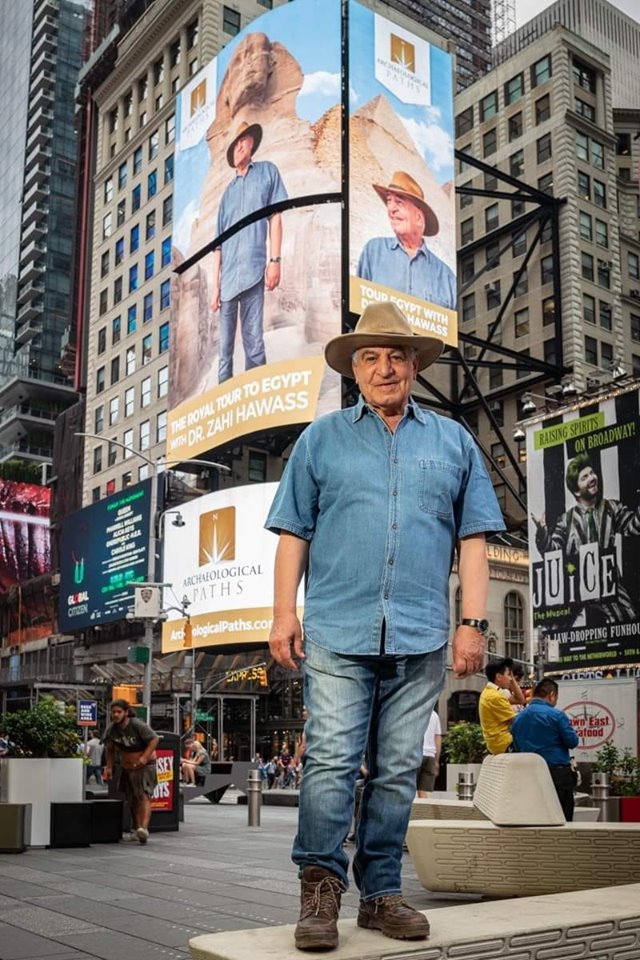 Photos of the iconic Egyptian Egyptologist and former Minister of Antiquities Zahi Hawass will appear in one of the world's most distinguished squares, Times Square of New York City, promoting Egypt in Hawass' famous casual style–in the photos, he wears blue jeans, a blue button-down shirt and an Indiana Jones-style hat.
The photo will pop up in the iconic square every two minutes for a whole month starting today, according to the Egyptian news outlet Masrawy.
At the bottom of the photo is an invitation from the famed Egyptologist inviting the whole world to visit Egypt.
Egypt's Minister of Tourism Rania El Mashat applauded Hawass' efforts to bolster the Egyptian tourism sector, suggesting that the Egyptologist's recent shoot in Times Square be uploaded on the diverse social media pages of the Ministry.
Hawass will give multiple lectures in the US on Wednesday, to be attended by officials from the Egyptian Embassy in the US including ambassador Hesham El Nakib, the general consul and representatives from EgyptAir in addition to a group of politicians and archaeologists from the Metropolitan Museum of Art, Masrawy reported.
Since 1998, Hawass has received numerous awards such as the Golden Plate Award from the American Academy of Achievement, membership induction into the Russian Academy of Natural Sciences, and more. He has received international recognition including the title "Scholar of the Year" by the Association of Egyptian-American Scholars in 2000, according to his official profile on Facebook.
He was also listed by National Geographic as an Explorer in Residence. Furthermore, Hawass was included among the world's Top 100 Most Influential People for the year 2005 by TIME Magazine, his profile read.
Notably, in 2008, he was granted the prestigious post of Goodwill Ambassador to Japan by the Egyptian and Japanese Ministries of Foreign Affairs, according to his verified account.
Photo credit: Zahi Hawass' Facebook page