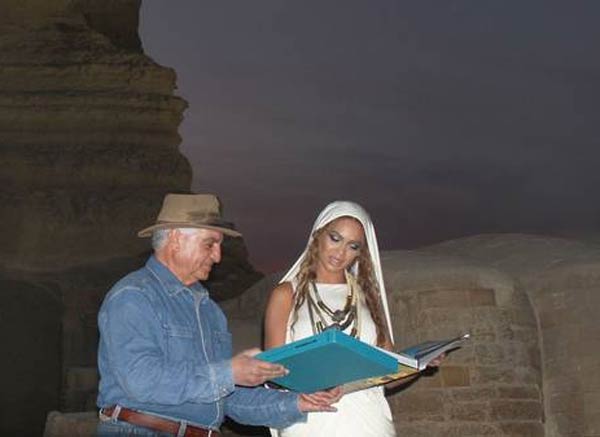 Renowned Egyptologist Zahi Hawas spoke about the hustle that went down between him and American 22-time-Grammy Award-winner Beyonce during her visit to Egypt in 2010.
During his interview on talk show Al-Hayah Al-Youm (Life Today) on Al-Hayah television channel, Hawas began the story by praising the diva singer and actress, saying that she was not the reason for the feud. "She arrived wearing white attire, as if she was Queen Cleopatra. I asked her 'are you trying to be Cleopatra?' She laughed," he stated.
Hawas continued to say that he and Beyonce were getting along well until he decided to present her with a gift. "She is very nice. I began explaining some things, and then I was presenting her with a book when her photographer began taking photos. I had my personal assistant, an American volunteer named Jennifer, who also began taking photos," he revealed.
That is when things went wary, he said, explaining, "That's when I was startled to find a huge bodyguard attacking Jennifer, pushing her and confiscating her camera. I was furious."
That moment, Hawas said he could not control his anger. "I told him (the bodyguard), 'shut up. You and her (Beyonce) are nothing here! Get out! You have wronged us! And wronged this woman (Jennifer) for no reason! Get out!' Then I left," he said.
While this is one version of the story, an earlier version that Hawas told The Independent in November 2013 shares similar details, but describes Beyonce as being at the very least stern, if not rude. "She said she would come at 3 pm, but she came late. I said 'You have to say I'm sorry I'm late'. But she didn't open her mouth," Hawas told The Independent.
Pegged as the Egyptian Indiana Jones, Zahi Hawas is Egypt's former Minister of Antiquities and is an Egyptian archaeologist and Egyptologist. He is credited with several important Egyptian archaeological discoveries, including the tombs of the pyramid builders at Giza and the Valley of the Golden Mummies at Bahariya. In Giza, he also uncovered the satellite pyramid of Khufu, among many others.
Hawas has also accompanied some of Egypt's most important visitors on their tours, including former US President Barack Obama and esteemed actor Will Smith.