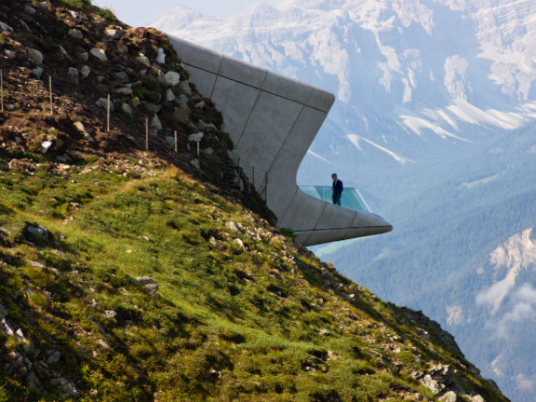 The Iraqi-British designer and architect's latest creation is the Messner Mountain Museum Corones, a museum built into the side of a mountain in South Tyrol, Italy. A new cultural destination dedicated to mountaineering.
The Messner Mountain Museum Corones is the final installment in a series of six mountaintop museums conceived by Reinhold Messner, the first climber to reach the summit of Mount Everest without additional oxygen.
Located in the heart of the popular Kronplatz ski resort in South Tyrol, Italy, the building will exhibit objects, images and tools that tell the story of Messner's life as a mountaineer.
"On Kronplatz I present the development of modern mountaineering and 250 years of progress with regard to the equipment," explains the renowned sportsman.
"I speak of triumphs and tragedies on the world's most famous peaks – the Matterhorn, Cerro Torre, K2 – and shed light on alpinism with the help of relics, thoughts, works of art, and by reflecting the outside mountain backcloth in the interior of MMM Corones."
As for Zaha Hadid, she designed the museum in such a way "that visitors can descend into the mountain to explore its caverns and grottos, before emerging through the mountain wall on the other side, out onto the overhanging terrace with its spectacular, panoramic views from Zillertal Alps in the north to the Dolomites and South Tyrol."
The museum itself has been built into the side of the mountain, emerging only at certain points to offer spectacular views. 4000 cubic metres of earth were removed to make way for the structure, and then placed back on top of it once completed.
In order to support the structure from the pressure of the surrounding earth, the walls are between 40 and 50cm thick and the roof has thicknesses of up to 70cm. The museum is thus totally integrated into the mountain and maintains a constant temperature.
The Messner Mountain Museum Corones joins several other structures already present on Kronplatz, such as the Concordia 2000 Peace Bell, installations for hang and para-gliding, two restaurants (Kron and Gipfel), a reproduction of a Native American camp and, of course, the various ski stations serving Kronplatz.
– See more at: http://www.themalaysianinsider.com/travel/article/zaha-hadid-designs-a-museum-perched-in-the-alps#sthash.Ri2NSMKg.dpuf