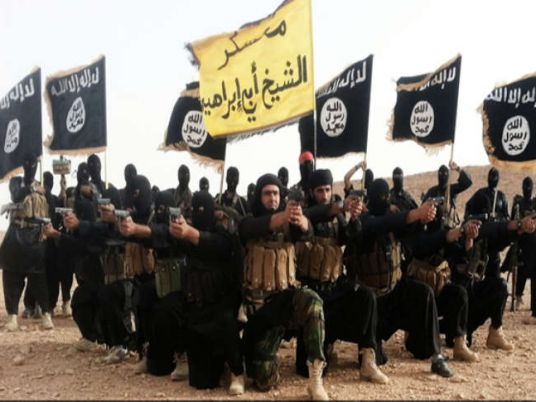 Following President Abdel Fattah al-Sisi's violent and harsh crackdown on political dissidents, the organization calling itself the Islamic State seems to be benefiting from the disillusionment of young politically-minded youth who feel that attempts at peaceful change have been wasted and have consequently adopted more extremist and violent mindsets.
IS has begun using hashtags and other methods on social media to target youth all around the Islamic world, particularly in Egypt, calling for youth to take advantage of instability and confrontations with the army in Libya.
Al-Masry Al-Youm reported one method for young men to join the IS is to first enter a sort of "training school" in the Libyan city of Derna, located on the Egyptian western borders, where Egyptian youth learn how to use arms, bomb cars and shoot.
Mohamed: Why I joined IS
While social media users share news over terrorist bombs, declared victories by police and armed forces against terrorists as well as writing lengthy comments on the local political developments, Mohamed, university student who lost the chance to finish his education upon dismissal, looks for a chance to escape through his computer. He follows news on progress by IS in Syria and Iraq as well as the heating confrontations between national Libyan army and Islamist movements. He hopes to be among the winning ones. Mohamed, or Abu Qaswara al-Masry as he calls himself on social media websites, and other youth found what they were looking for to support Islam in Libya. Terms used by those who seek gathering youth to hold arms and fight in Libya have attracted people like Mohamed and others.
Mohamed, who has now become a jihadi, spoke to Al-Masry Al-Youm on the condition his name and all identifying information be hidden. On his Facebook page, he has posted his photo with a kalashnikov gun, dubbed his "beloved Russian," along with his hopes of establishing an Islamic state in Egypt.
Mohamed was one of those attracted to a hashtag called '#whenwillyouriseuptojihad' used by the IS supporters. Spurred by the hashtag, young men who have left their countries are seeking a jihadi narrative to their stories about invasions and victories against the Libyan army, led by colonel Khalifa Haftar. After calls were made to head to Libya instead of Syria, tweets were written by Abu Qaswara over his memories to establish the Islamic state as well as his hard trip from Egypt to Derna.
Both Abu Qaswara and another young man named Aba Iyad s[eak about their 'untrue jihad' when they took part in peaceful protests that led to nothing but violent demonstrations without leading to anything at the end. Both say the solution is joining the Islamic fighters who are able to yield real results.
Abu Qaswara said Facebook has no longer been their only means of communication. They now use the website
ask.fm
to ask questions and get answers over ways of jihad. He stresses necessity of getting an 'endorsement' from an 'Egyptian brother' in addition to paying LE4,000 as costs of traveling. The jihadists express their wish to generalize their calls across north Africa, not only Egypt. They also called on newcomers to call on their families first to join.
Regarding the need for money in the caliphate, Abu Qaswara says "the other brothers spend on you and protect you."
Narrating reasons for joining the jihadists, Abu Qaswara said, "I left Egypt for Libya to establish God's rules to fight apostates and seek revenge for Muslims."
He explains that Egypt is now a 'country of apostates' as people in Egypt supported democracy and legislation without God's rules. He does not deny that his dismissal from university motivated joining the extremists in Libya. However, it was not the main reason. "Female muslims are being assaulted in prisons, while Muslims are being humiliated. Thus, I had to start fighting the apostates. In Egypt, we had no power, for that I decided to immigrate."
Mohamed believes the peaceful protests he took part in was not of Islam. He says he did not find his current way without being arrested during Mohamed Mahmoud incidents in November 2011. He recalls how he and his companions were ill-treated in prison. They were accused of sabotage for participating in peaceful protests. By then, Mohamed says he realized that peaceful methods will yield nothing.
"I did not join the Brotherhood. They claimed all those participated in the revolution were traitors, including me. Revolutionaries joined the remnants of old regime. What peacefulness should I stick to?"
Researchers: IS members have jihadi salafist background
Kamal Habib, a researcher on Islamic movements, believes many youth who join jihadi movements in Libya have jihadi salafist backgrounds. "That thought targets the Arab countries that fight IS including Egypt and Emirates. Thus, the result of the fight in Libya will identify priorities of these groups. Egypt will be on top of priorities, if the groups win the war there, which does not seem to be happening. Announcements to join them on internet indicates their clear losses in Libya," he said.
Regarding dangers of these groups traveling to Derna, Habib says, "The risk is in that 30 percent of the returnees from these fronts will carry out operations against their countries after receiving military trainings."
Concerning reasons behind joining the extremists groups, Habib blames it on religious discourse and media being behind extremism. He says media has become contractors of destruction who ruin many values of the youth. Also the religious discourse by Al-Azhar and Religious Endowments Ministry needs to be restructured, he adds.
Former Jamaa al-Islamiya figure Nageh Ibrahim, agrees with Habib saying, "Speeches in mosques have died, as well as their roles after the ministry monopolized preaching. Whoever monopolizes anything, should do it in the right way then. Reality shows that religious discourse is either weak or extremist. Both lead to extremism of youth."
Libyan political analyst Malek al-Sharif, says, "Number of Egyptians who reached Derna is not large so far. However, it's increasing especially after extremists groups in Sinai pledged allegiance to IS. They live in Derna in the mountains, which is the same lifestyle of al-Qaeda. They move every now and then due to the airstrikes."
Edited translation from Al-Masry Al-Youm