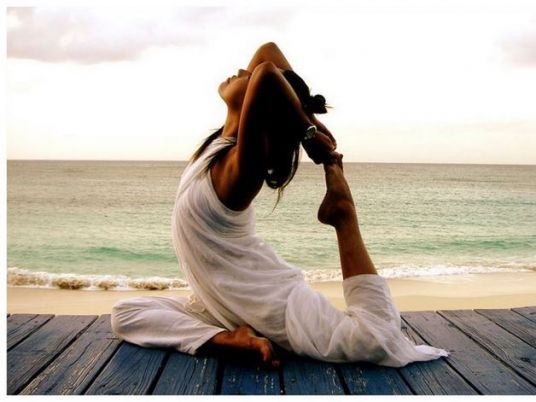 Yoga seems to provide small improvements in symptoms and quality of life in people with asthma, according to a new review.
The practice of yoga includes breathing exercises, postures (called asanas), and meditation. Yoga has been proposed as a treatment for a variety of medical conditions, including asthma, but scientific studies have shown inconsistent results.
Dr. Jin-Ling Tang from The Chinese University of Hong Kong's Prince of Wales Hospital looked at the evidence from 15 studies involving more than 1,000 asthma patients to see whether yoga provided significant benefits.
One third of these studies included only yoga breathing exercises, and the rest included breathing, postures, and meditation. The yoga practice lasted anywhere from two weeks to four and a half years, though it was less than six months in most studies.
Overall, yoga slightly improved symptoms and quality of life and reduced the need for medications.
The quality of the evidence, though, was moderate at best, and the effects of yoga on lung function were far from consistent.
None of the studies reported any serious ill effects from yoga, but more research would be needed to make reliable conclusions about unwanted side effects.
"We found that yoga probably improves quality of life and asthma symptoms to some extent," the researchers conclude. "However, our confidence in the results is low as most of the studies were flawed in various ways."
"High-quality studies involving large numbers of participants are required for us to be able to draw a firm conclusion about the effects of yoga for asthma," they add.
Dr. Holger Cramer from University of Duisburg-Essen, Germany completed a similar review in 2014. He told Reuters Health by email, "Giving yoga, specifically yogic breathing, a try can be worthwhile in asthma patients. As the evidence is not really strong, no wonders should be expected but yoga is likely to do more good than harm."
"Breathing techniques are an essential part of yoga when targeting asthma," Cramer said. "While posture-based yoga interventions and mere meditation might not be this effective; complex yoga forms [incorporating yoga postures, breathing, and meditation] and yoga forms that only include breathing techniques are more or less equally effective."
"More research is needed before we can conclusively judge the effectiveness of yoga in patients with asthma," he agreed.
The complete review of these studies appears in the Cochrane Database of Systematic Reviews.
Tang did not respond to a request for comments.